King's Daughters achieves Comprehensive Center accreditation for Surgical Weight Loss Program
Category: News
Posted On:
Written By:

Tammi Holbrook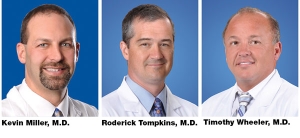 King's Daughters Medical Center's Surgical Weight Loss Program has achieved Comprehensive Center accreditation from the American College of Surgeons Metabolic and Bariatric Surgery Accreditation and Quality Improvement Program, in partnership with the American Society for Metabolic and Bariatric Surgery.
"The Surgical Weight Loss team of surgeons and clinicians at King's Daughters understands the health risk associated with obesity and have been able to assist individuals in preventing those risks or improving existing complications since 2003," said Tammy Denton, RN, CDE, program coordinator. "We have performed over 3,000 surgeries with a constant focus on quality outcomes. Our reward is witnessing the positive impact that weight loss surgery has in improving one's health."
The MBSAQIP accreditation for King's Daughters formally acknowledges the medical center's continued commitment to provide and support quality improvement and patient safety efforts for metabolic and bariatric surgery patients. Accredited programs must demonstrate the needs of bariatric surgery patients are met by providing multidisciplinary, high-quality and patient-centered care.
King's Daughters Surgical Weight Loss procedures are performed by surgeons Kevin Miller, M.D.; Roderick Tompkins, M.D.; and Timothy Wheeler, M.D. Procedures offered include Lap Assisted Gastric Band, Roux-en-Y Gastric Bypass and Sleeve Gastrectomy.
For more information, call (606) 408-1541, or toll free 1-888-377-KDMC (5362) or go online to www.yourhealthylife.org.