Health Foundation
Rocky & Leah Adkins Cure for Cancer Golf Tournament 2023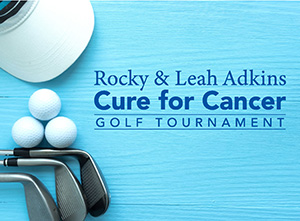 We are excited to once again present the Rocky & Leah Adkins Cure for Cancer Golf Tournament, taking place Friday, May 26 at Eagle Trace Golf Course in Morehead, Kentucky.
Morning Tee Time • 8 a.m.
Afternoon Tee Time • 1:30 p.m.
Lunch • 11:30 a.m. to 2 p.m.
FORMAT:
Four-person best ball scramble Shotgun start – rain or shine
Soft spikes required by course
REGISTRATION:
Morning – 7 a.m. • Afternoon – noon
All proceeds benefit the King's Daughters Health Foundation to help support King's Daughters Oncology Services.
For more information, please contact the King's Daughters Health Foundation at (606) 408-9332 or email laura.patrick@kdmc.kdhs.us.