Church donates time, gifts to chemo patients
Category: News
Posted On:
Written By:

Jennifer Fields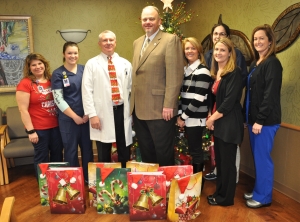 Patients who are receiving chemotherapy treatments during the holiday season will receive a special treat during their next visit thanks to a local church's outreach ministry.
This morning several church members from First Christian Church (Disciples of Christ) in Ashland delivered more than 350 Christmas gift bags to KDMS Tri-State Hematology/Oncology. The office was packed with colorful gift bags after church members unloaded four trucks and vans stocked with goodies for patients. Church members spent most of Tuesday evening filling bags with gum, mints, coloring books, candy bars, gloves and a Santa hat.
"Some of our chemo patients in the infusion center are cold while receiving their treatment and others say their mouths become dry," said Delana Warnock, practice manager. "They will be so surprised and I know how much they will appreciate it."
Delana said about 55 to 65 patients receive chemotherapy treatments each day. And it's no different during the holiday season.
"Once we learned about this, we wanted to do something to make their treatments a bit better — especially this time of year," said senior pastor Ike Nicholson.
"One of our beloved church members Joyce Kiser recently had cancer and came here for treatments," said church member Cheri Daniel. "She is now in remission and we do this to honor her."
Nicholson spoke to patients in the waiting area and said a special prayer.
"We can't thank them enough for their generosity," said David Goebel, M.D.
Pictured: Dana Maupin, Sylar Nolan, David Goebel, M.D., Dr. Ike Nicholson, Cheri Daniel, Lori Segina, Cheron Fannin and Cherri Dillow