King's Daughters named a Most Wired hospital fourth consecutive year
Category: News
Posted On:
Written By:

Tammi Holbrook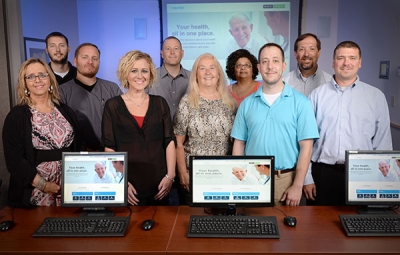 For the fourth consecutive year in a row, King's Daughters has been recognized as one of the nation's Most Wired for Health Information Technology through Hospitals and Health Networks' 17th annual Health Care's Most Wired Survey. King's Daughters also achieved this designation in 2012, 2013 and 2014.
"Delivering quality patient care today means delivering robust, secure electronic health records," said Kristie Whitlatch, King's Daughters president and CEO. "We're proud of the work our team has performed since 2008, when we introduced electronic records at King's Daughters. Four years of national recognition is quite an accomplishment."
Out of 2,200 eligible hospitals in the U.S., only 339 were recognized as Most Wired. This places King's Daughters in the top 15% of hospitals for secure, patient-friendly connected technology.
According to the survey, "hospitals and health systems have continually ratcheted up their use of cornerstone IT applications. For instance, 95 percent of the 2015 Most Wired hospitals have standing, evidence-based electronic order sets built into their CPOE (computerized physician order entry) systems." King's Daughters has utilized CPOE for since 2011. Additionally, 89 percent of hospitals on the Most Wired list allow patients to access the portal via a mobile app, up from just 58 percent last year. King's Daughters has given patient mobile access to their personal health records since 2011.
In addition to the main campus in Ashland, King's Daughters operates nearly 50 off-campus locations throughout Kentucky and Ohio, all connected to the same electronic health system. A second hospital, KDMC Ohio, opened in 2013 with complete connectivity for patients in Portsmouth, Ohio. Recently, King's Daughters team members put intense focus on continued enhancements that improve patient care. This includes implementing and continually enhancing Epic, the electronic health record system that integrates records wherever the patient receives treatment throughout King's Daughters Health System.
Epic enables KDMC healthcare providers to follow each patient across multiple office visits, admissions and procedures. Patients have access to their own secure electronic health information through MyChart, which enables them to take an active role in their healthcare.
Pictured (from left): Falissa Prout; Greg Howard; chief medical information officer Matt Pierzala, D.O.; Whitney Parker; Jason Fox; Anna Jones; Dennie Letcher; Josh Canterbury; Pat Stahl; Nate Smithson.