King's Daughters welcomes family nurse practitioner to Olive Hill
Category: News
Posted On:
Written By:

Tammi Holbrook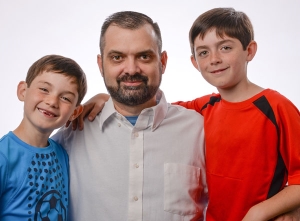 King's Daughters welcomes family nurse practitioner Timothy Huff to its Family Care Center in Olive Hill. He joins fellow nurse practitioners Melissa Leuenberger, Maryann Mosby and Leslie Slone at the practice.

Huff earned two Master of Science degrees — in Nursing and in Leadership and Management from Walden University, Minneapolis, Minn. He is board certified by the American Academy of Nurse Practitioners.
"I'm thrilled to have the opportunity to provide healthcare for the people of Olive Hill," said Huff. "I know this area; people here are so gracious. It's a great environment, and I'm also excited to be working with this amazing team."
Huff began his career at King's Daughters 16 years ago as an emergency medical technician (EMT). "I met my wife Anita at King's Daughters. We actually started working there on the same day in October 1998. She's a wound care nurse at the medical center," he said. He credits the support of his supervisor and King's Daughters leadership with his ability to advance his education and enhance his skills in patient care. "They've all been very encouraging to me as I completed my degrees. I couldn't have done it without them."
Huff, his wife and two sons, 9-year-old Leland and 7-year-old Clark, live in Boyd County. He welcomes new patients to the practice located at 391 W. Tom T. Hall Blvd., Olive Hill. To make an appointment, please call (606) 286-8039.