Medication packs simplify prescription routines
Category: News
Posted On:
Written By:

Jennifer Fields
Unintended medication overdoses hospitalize nearly 100,000 seniors 65 and older each year, according to a U.S. Centers for Disease Control and Prevention study. Nearly half of those are 80 or older.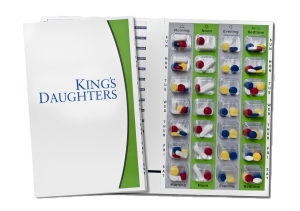 King's Daughters Family Pharmacy Ironton has an answer — weekly medication packs.
Prescriptions and over-the-counter medication, including vitamins and nutritional supplements, can be filled into the weekly medication pack. Morning, noon, evening/dinner and bedtime medications are packaged together into one bubble according to time of the day to be taken. The packs are filled in seven-day sheets in cycles of 28 days.
"This is one of the most effective ways for people who are taking multiple medications to ensure they get the right medication at the right time," said Jason Baier, pharmacist. The service is free; normal changes for medications apply.
Patients meet with Baier, who provides a free consultation about the program and can arrange for prescriptions being filled at other pharmacies to be transferred to the King's Daughters pharmacy. Baier prepares the packs Wednesdays and Thursdays. Patients can pick up the packs Fridays or choose to have them delivered at no cost. Prescriptions that are written as "take as needed" are not included in the weekly packs.
"This gives a family member or caregiver peace of mind that their loved one is taking their medications correctly," said Baier. "We keep the prescription bottles at the pharmacy and we contact the physician directly for refills if the patient so chooses."
Weekly medication packs are especially valuable to patients with specific needs who have difficulty managing medications, who take multiple medications on varying schedules, Baier said.
In addition, Baier said, the weekly packs can help support patients with specific needs, those who get confused and those who travel with medication.
For more information call Baier or pharmacy technician Kathy Martin at (740) 237-4922. King's Daughters Family Pharmacy in Ironton is located at 912 Park Ave., Suite 105, inside the King's Daughters facility. Hours are 10 a.m. to 6 p.m., Monday through Friday.