King's Daughters cancer registrar receives prestigious award
Category: News
Posted On:
Written By:

Tammi Holbrook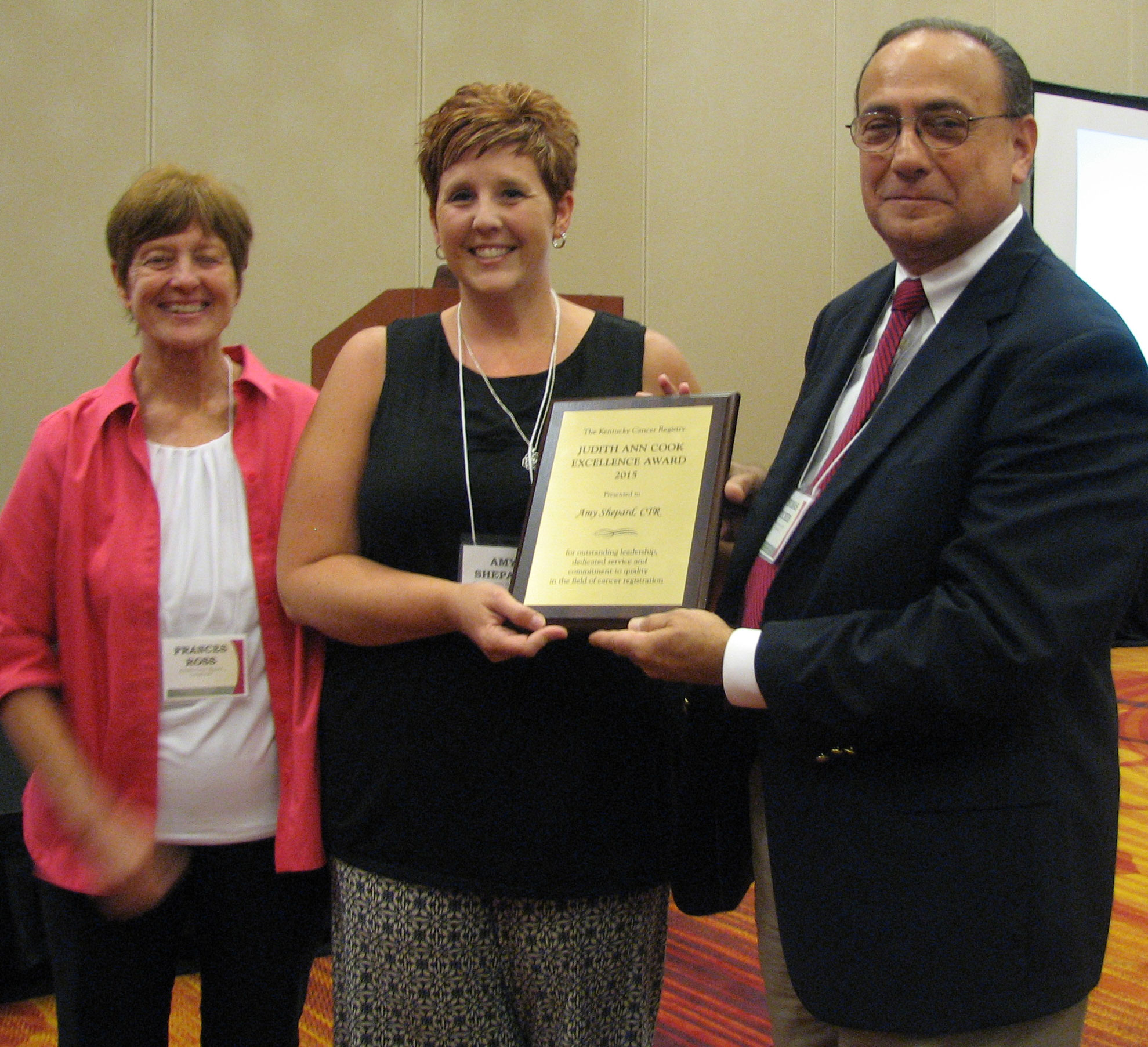 Congratulations to cancer registrar Amy Shepard, who recently received the 2015 Judith Ann Cook Award for Excellence in Cancer Registration. The prestigious award is presented annually to an outstanding hospital-based cancer registrar.
Amy's invaluable work ensures that timely, accurate and complete data is maintained on all of the patients with cancer treated at King's Daughters. The data she provides is reported to state and national cancer registries to inform and support cancer program development, with the ultimate goal of controlling and preventing cancer.
Amy has been at the heart of the Cancer Program at King's Daughters Medical Center since first starting the Cancer Registry in 2007. As a certified tumor register, Amy tackles every challenge with enthusiasm, dedication and great attention to detail. Whether it's case finding, follow up or those dreaded CP3R reports, Amy does not back down.
Amy applies her knowledge and expertise to producing high-quality, actionable data reports for our quarterly Cancer Committee, leading to improvements in patient care and clinical practice. As a result, she has earned the respect of physicians, clinicians and administrative leadership at all levels. Because of Amy, they understand the importance of quality registry data not just to our patients, but to people throughout the state, region and nation.
Watching cancer happen and recording its effects is not enough for Amy. She is passionate about educating the public on risk reduction, prevention and the early detection of cancer. She serves on multiple community committees, actively participates in outreach activities sponsored by King's Daughters, and contributes her time and talents to American Cancer Society events. In 2014, Amy received the Excellence in Helping to Prevent Cancer 2014 Award from the ACS.
Please join us in thanking and recognizing Amy for her achievement and the important work she does!
Pictured: Frances Ross, Director of Registry Operations, Amy Shepard and Dr. Thomas Tucker, Director of the Kentucky Cancer Registry.