KDMC, OLBH contribute more than 20,000 pounds of food to River Cities Harvest today
Category: News
Posted On:
Written By:

Tammi Holbrook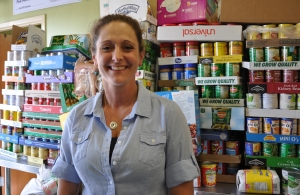 KDMC and OLBH wrapped up their annual Food Feud to collect non-perishable food for River Cities Harvest. The two hospitals collected and delivered more than 20,774 pounds of food to RCH today (beating their combined goal to bring in 20,000 pounds this year)!
"Spring can be a lean time of year for us," said Brittnany Hoback, RCH executive director. "This Food Feud provides us with a significant source of much needed canned food. We often struggle this time of year to get our hands on non-perishable items. We can't thank the teams of King's Daughters and Our Lady of Bellefonte Hospital enough!"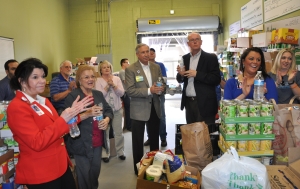 Last year the two teams brought in 14,559 pounds of food and were determined to at least bring in 20,000 this year.
Assembly lines of leaders, team members and volunteers from both organizations were formed to unload two large trucks at RCH this afternoon.
"This is so exciting," said Rita Burgess, KDMC patient representative who oversees the Food Feud at the medical center each year. "These are amazing people coming together for such a great cause and we appreciate them!"
Photo 1 - Brittnany Hoback; Photo 2: KDMC, OLBH teams react to Brittnany's announcement they beat their goal.