Welcome to vascular surgeon Chelsey Lewis, M.D.
Category: News
Posted On:
Written By:

Tammi Holbrook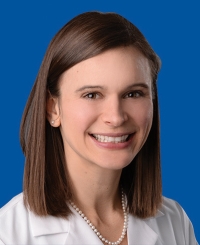 King's Daughters welcomes vascular surgeon Chelsey Lewis, M.D., to the team at Tri-State Vascular Specialists, 613 23rdSt., Suite 140, Medical Plaza B, Ashland, Ky. She joins vascular surgeon Omran Abul-Khoudoud, M.D.
Lewis earned her medical degree from the University of South Florida College of Medicine, Tampa, Fla., and completed residency at the University of South Florida, Tampa General Hospital. She is board certified by the American Board of Surgery, subspecialty certification in vascular surgery.
A vascular surgeon provides medical and surgical management of vascular disease throughout the body, excluding the brain and heart. Their unique skill set means they provide a continuum of care unavailable in any other specialty. The physicians at Tri-State Vascular Specialists perform both minimally invasive interventional procedures (endovascular) and traditional "open" surgery for conditions, as well as providing medical care for conditions including:
Abdominal aortic aneurysm (AAA)
Blue limb / ischemic limb
Carotid artery disease
Deep vein thrombosis (DVT)
Lymphedema
Peripheral artery disease
Placement of dialysis fistulas
Varicose veins
Venous insufficiency
Patients are seen by physician referral. Second-opinion consultations are welcome. For more information, please call the practice at (606) 326-1675.