Family Pharmacy in Ironton expands hours; open Saturdays
Category: News
Posted On:
Written By:

Jennifer Fields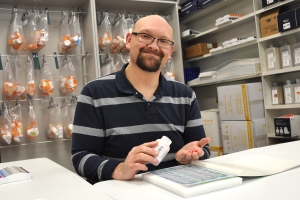 King's Daughters Family Pharmacy in Ironton is expanding its hours of operation: 8 a.m. to 6 p.m. Monday through Friday; 9 a.m. to 2 p.m. Saturday. It is located within KDMC's Family Care Center and Urgent Care Center in Ironton.
"The new hours will be more convenient for those who need prescriptions filled on their way to work and on Saturdays. We will also be able to assist patients at our Urgent Care Center," said pharmacist Jason Baier.
The pharmacy is located at 912 Park Ave., Suite 105.
The pharmacy can receive patient information and fill prescriptions as quickly as possible for customers. Prescriptions can be brought in, faxed or transmitted electronically by your provider. Home delivery and medication packs are available.
In addition to prescriptions, the pharmacy also offers gift items including:
Lampe Berger Paris fragrance lamps
Artist Jay jewelry line, which includes earrings, necklaces made from recycled aluminum cans
Run Run Run nylon purses and lunch bags
Cinda B handbags, totes and accessories
Snacks and drinks are also available. Cash, checks and credit cards are accepted. Payroll deduction is available for KDMC Team members. Most health insurance plans are accepted.
For more information call (740) 237-4922.