Buy local!
Category: News
Posted On:
Written By:

Tammi Holbrook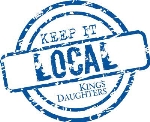 King's Daughters encourages everyone to buy local whenever possible! The Parkview Café, King's Daughters' cafeteria, is proud to serve in-season local foods including fruits from Savage Farms and meats from JSW Farm Chop Shop (who buys from local farmers). To find out what local foods are featured each day, just call
(606) 408-1420
for the menu.
In addition to seasonal items, the Parkview Café also features foods from local vendors such as Modern Dairy, Ashland Specialty, Snyder's, Heiner's and Brown Foodservice.
And, don't forget, the local Farmer's Market, now is available from 2 p.m. to 6 p.m. every Thursday from June to October under the tent on 24th Street and Bath Avenue in Ashland. Come check out the selection of fresh fruits, vegetables and so much more!