Welcome to neurosurgeon Jerrel H. Boyer, D.O.
Category: News
Posted On:
Written By:

Tammi Holbrook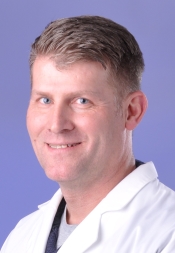 King's Daughters welcomes neurosurgeon Jerrel H. Boyer, D.O., back to the medical center. He joins Ondrej Choutka, M.D., at KDMS – Neurosurgery in Ashland.
Boyer earned his medical degree from the University of New England College of Osteopathic Medicine, Biddeford, Maine. He completed neurosurgery residency at Philadelphia College of Osteopathic Medicine. Boyer is board certified by the American Osteopathic Board of Surgery with subspecialty certification in neurosurgery.
A neurosurgeon is a physician who specializes in the diagnosis and surgical treatment of disorders of the central and peripheral nervous system, including congenital anomalies, trauma, tumors, vascular disorders, infections of the brain or spine, stroke and degenerative diseases of the spine.
King's Daughters Medical Specialties — Neurosurgery is located at 617 23rd St., Suite 6, Medical Plaza A, Ashland. The practice can be reached at (606) 329-1770.