Welcome to our new vice president of People Services
Category: News
Posted On:
Written By:

Tammi Holbrook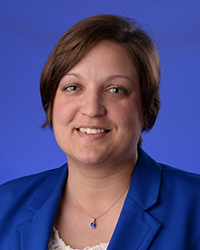 King's Daughters recently welcomed its new vice president of People Services, Kelly Hurt.
Hurt brings more than 15 years experience in human resources to the strategic team at King's Daughters. Her experience includes talent management, compensation and benefits, and strategic planning.
Previously Hurt worked for Banner Health in Greeley, Colorado – supporting 5,000 employees in four locations. Her educational credentials include a bachelor of science degree in organizational leadership and supervision; two masters degrees - healthcare administration and business administration; and she soon will earn her doctorate in human capital management.
"I am very excited to be a part of the King's Daughters family and am looking forward to using my talent management background to help continue to develop the culture of the organization," said Hurt. "I have been so impressed by the team and the level of commitment everyone has to the organization and the communities we serve."
Hurt said she and her husband, Dave, are pleased to be in Ashland. "We lived in Indiana most of our lives, so we are very happy to be closer to home and look forward to becoming integrated into the community," she said.