Welcome new heart surgeon
Category: News
Posted On:
Written By:

Erin Bounds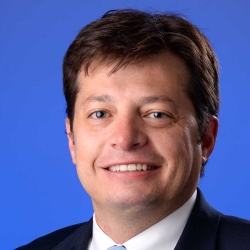 King's Daughters has welcomed a new cardiothoracic surgeon to its medical staff, Juan Bastidas, M.D.
He joins King's Daughters Cardiothoracic Surgeons of Kentucky, Eric Bronstein, M.D., and Robert Fried, M.D.
Bastidas earned his medical degree from the University of Rosario in Bogata, Colombia and completed internships in medicine and surgery at the University of Rosario and Bogata Surgical Society in Bogota, Colombia, and in surgery at the University of Massachusetts School of Medicine in Worcester, Mass.
He completed his general surgery residency at Louisiana State University School of Medicine in New Orleans and a fellowship in cardiovascular and thoracic surgery at Loma Linda University Medical Center in Loma Linda, Calif.
For the past two years, Bastidas has served as an assistant professor of cardiothoracic surgery at Loma Linda. He is board certified by the American Board of General Surgery and the American Board of Thoracic Surgery.
His wife, Mary Katherine Hughes, M.D., is currently completing a surgical oncology fellowship in Dallas, Texas and will be joining King's Daughters next year. Her family hails from the Richmond, Ky., area.
King's Daughters Cardiothoracic Surgeons of Kentucky is located in Suite 210 of Medical Plaza B, 613 23rd St., Ashland. The practice can be reached at (606) 327-9847. Patients are seen by physician referral; second-opinion consults are welcome.
King's Daughters cardiothoracic surgery program has earned three stars from the Society of Thoracic Surgery (STS), the organization's highest quality rating.