Regional Cancer Conference is Sept. 15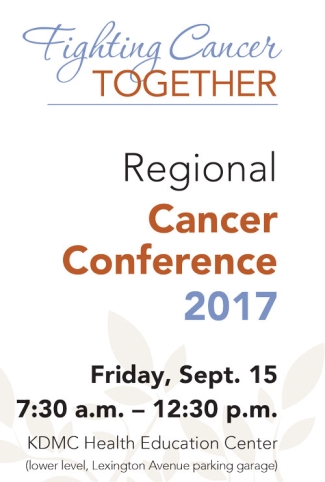 King's Daughters Oncology Center of Excellence presents
Regional Cancer Conference 2017
beginning at 7:30 a.m. Friday, Sept. 15. The half-day conference will take place in the Health Education Center at KDMC, 2201 Lexington Ave., lower level of the Lexington Avenue Parking Garage.
Speakers and their topics are:
Difficult Conversations, Lynne J. Goebel, M.D., professor of internal medicine and geriatrics at the Joan C. Edwards Marshall University School of Medicine. Dr. Goebel will discuss ways of presenting bad news; counseling patients on CPR and advance directives; and improving the care provided to family members following the death of a loved one.
Colorectal Cancer: An Update in Epidemiology and Treatment, Jitesh Patel, M.D., fellowship-trained, board-certified colon and rectal surgeon at the University of Kentucky. Dr. Patel will review the latest research on colorectal cancer epidemiology and screening; discuss the guidelines for staging and treatment; and review the role of laparoscopy in the treatment of colorectal cancer.
Lung Cancer Screening: Living for the CT, Anthony D. Weaver, M.D., associate professor of internal medicine and assistant dean of the Rural Physician Leadership Program at UK's College of Medicine. Dr. Weaver will discuss incidence and risk factors of lung cancer in Kentucky; review evidence on low-dose lung screening programs; and discuss the risks and benefits of the screening.
Molecular Tumor Board, Jill M. Kolesar, PharmD. Dr. Kolesar is director of Early Phase Clinical Trials, co-leader of the Drug Discovery, Development and Translation Program, and co-director of Molecular Tumor Board at the University of Kentucky Markey Cancer Center. She will discuss the technology that enables precision medicine; collaboration in a multidisciplinary molecular tumor board; and interpretation of clinical next generation sequencing reports.
The program has been approved for 4.8 hours contact hours for nurses by the Kentucky Board of Nursing and for 4.0 hours of KMA CME credits for physicians. Cost for the conference is $20, which includes a continental breakfast. The conference is free for King's Daughters team members and affiliates.
Pre-registration is required on or before Sept. 11. Click this link to register online. For more information, please call Nichole Stamper at (606) 408-0099.