KDMC Installs Advanced Cardiac Mapping System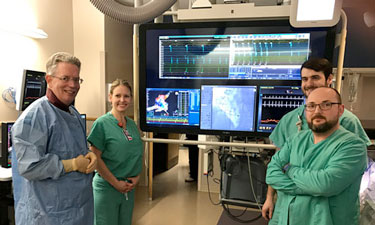 New technology enables tailored treatment for patients with cardiac arrhythmias
King's Daughters Medical Center is the first facility in Kentucky to install the EnSite Precision™ cardiac mapping system, a next-generation platform designed to provide automation, flexibility and accuracy for diagnostic mapping used in ablation procedures to treat patients with abnormal heart rhythms.
King's Daughters was among the first sites in the U.S. to utilize this technology, which was approved for use in Europe in January 2016 and recently received FDA clearance.
King's Daughters electrophysiologist John Van Deren, M.D., used the new system on Friday, Jan. 27, to successfully treat a patient suffering from scar flutter.
The Abbott EnSite Precision cardiac mapping system provides highly detailed anatomical models and maps of the patient's heart, enabling diagnosis of a wide range of arrhythmias, guiding therapy and providing additional procedural options. Treatment involves delivering radiofrequency energy (RF) to the tissue where the abnormal heartbeats originate. The RF energy scars the tissue, rendering it no longer capable of conducting or sustaining the arrhythmia.
"The EnSite Precision system allows us to much more precisely identify problem areas and to deliver treatment with pinpoint accuracy," Dr. Van Deren said. "This results in better outcomes for patients and an improved quality of life," he said.
One of the distinctive features of the EnSite Precision cardiac mapping system is that it uses intelligent automation tools, designed to enable faster and more accurate high density maps. This permits the physician to tailor treatment for a variety of cardiac arrhythmias, including complex cases. EnSite Precision creates rapid high-resolution models, reducing mapping times and lessening radiation exposure for both patients and clinicians.
King's Daughters established the area's first comprehensive electrophysiology program in 1999 and performs about 200 ablations annually. King's Daughters electrophysiologists include Dr. Van Deren, Terence Ross, M.D., and Ola Khraisha, M.D.
The most common arrhythmia is atrial fibrillation, affecting more than 3 million Americans.Also called Afib, it is a very fast, irregular rhythm that occurs when the upper chambers of the heart beat so fast that they only can quiver. The Precision EnSite system can be used to treat this condition, as well as many other heart arrhythmias.
For more information about treatment options for cardiac arrhythmias, please call King's Daughters Cardiology at (606) 324-4745.