Neurologist's commitment to Ethiopia receiving global recognition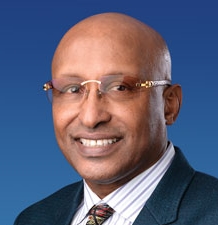 Worldwide, there are more than 2 million Ethiopians living somewhere other than their native country. Of these, somewhere between 250,000 and one million Ethiopians live in the U.S.
King's Daughters neurologist Enawgaw Mehari, M.D., is one of those 2 million. And while more than 7,500 miles separate Dr. Mehari from Ethiopia, the distance has not stopped him from having a having a profound impact on his homeland.
In 1999, Dr. Mehari founded People to People (P2P) as a non-profit, non-governmental organization dedicated to improving healthcare and reducing the spread of disease in Ethiopia and diaspora communities. P2P works to mobilize Ethiopian emigres and friends of Ethiopia to play an active role in the development of their native land.
P2P projects focus on strengthening the health and education infrastructure in Ethiopia by building bridges with institutions in developed countries. This fosters creativity, knowledge transfer, and technological development, he said. "We believe people's problems are best solved by people."
There are currently more than 5,000 P2P members worldwide, including doctors and other professionals who strive to make a difference in the lives of others through their involvement with P2P.
At its inception, P2P worked to address the HIV/AIDS epidemic that was devastating families in the country. Out of this came a concern for the children orphaned by AIDS. P2P established a boarding school for girls and a program of financial support for orphans living with their extended families.
The boarding school focuses on educating girls, Dr. Mehari said, because "empowering women is empowering a nation." When girls marry early, it's often at the expense of an education, he explained. The lack of education makes it difficult for them to support their families and less likely for them to encourage their children to get an education. "Education gives them a better chance."
The financial support program works by helping the oldest of orphaned siblings. As they grow up and get an education, they help raise their younger brothers and sisters, providing an opportunity and a way up for all. Today some of those who have been helped are studying medicine, engineering and social science.
In addition to its work with children, P2P hosts annual conferences in Washington, D.C., and in Ethiopia. They allow people with expertise in politics, education, healthcare and economic development to learn from one another, to network and to build bridges. An online Forum, with more than 50,000 members, allows for the exchange of ideas and connections worldwide, Dr. Mehari noted.
"A while back there was a man on the forum who had a nephew living in a remote area of Ethiopia, who needed a surgery," he recalls. "Through the Forum, his uncle from South Sudan, who worked for the UN, was able to make a connection with a neurosurgeon from Norway, who travelled to Ethiopia and the child ended up having surgery.
"That's the power of the P2P forum," Dr. Mehari said.
Today, P2P has chapters in the U.S., Canada, Finland, Sweden, Switzerland, and Germany, as well as Ethiopia as the focal point.
"Ethiopia – and Africa, too – just doesn't have enough trained manpower, healthcare or educational institutions to become well developed," Dr. Mehari said. "P2P is a huge force in bringing those resources to the continent, to help people there come up with indigenous solutions, build local institutions and to solve their problems, all with the goal of helping them to become independent."
The triangular partnership between western institutions, local institutions and the diaspora is key to foster local efforts and develop indigenous solutions, Dr. Mehari says.
For his work, Dr. Mehari has received numerous awards and recognitions, but perhaps the greatest honor will come this September, when he will receive a Community Service Award from the Bikila Award in Toronto, Ontario, Canada.
The mission of the Bikila Award is to foster academic, professional and business excellence and to promote volunteerism among persons of Ethiopian origin. The award is named for Abebe Bikila, an Ethiopian Olympic athlete who won the marathon at the 1960 Summer Olympics in Rome while running barefoot.
Dr. Mehari is proud of what he has achieved, but even prouder of the impact that he is having on his home country and the world at large. "I believe you don't have to go very far to become a missionary," he said. "You can be one in your own hometown." Even when your hometown is 7,500 miles away.
For more information about Dr. Mehari's People to People organization, please visit the website at p2pbridge.org.