Great orthopedic care - across our region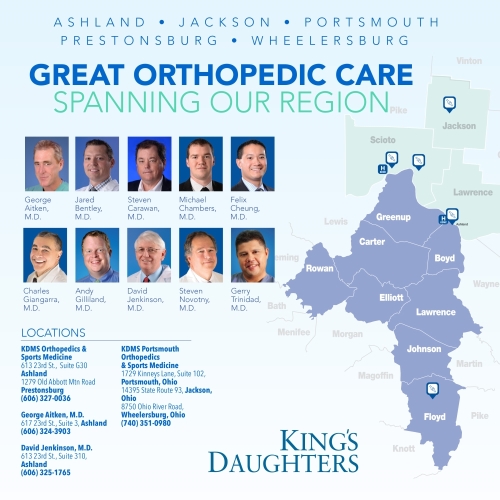 King's Daughters highly skilled orthopedic team is dedicated to improving quality of life through compassionate care. From Portsmouth, Ohio, to Prestonsburg, Ky., and in between — our fellowship trained surgeons and support staff are dedicated to restoring motion and getting patients back to their daily activities.
Skilled in total joint replacement procedures of all types, including hip and knee replacement, our team knows the importance of quality care and speedy recovery.
Joint Replacement
The Direct Anterior Hip Approach makes it possible for patients to get out of bed and begin walking within hours of surgery ... with less pain, shorter recovery times and fewer movement restrictions.
Through our new Rapid Recovery program, patients go home in 24 to 48 hours and get back to their normal lives in a matter of days. Introduced in late 2016, Rapid Recovery helps reduce pain and supports more complete restoration of function following joint replacement surgery.
"Rapid Recovery is a more personal approach to care that helps you get back on your feet again," said Felix Cheung, M.D., chief of orthopedic surgery at King's Daughters. "And it's also part of the reason why you can expect to spend less time in the hospital for a total joint replacement."
Orthopedists participating in the program include Drs. Cheung, Gerry Trinidad, M.D., Jared Bentley, M.D., and George Aitken, M.D. The Rapid Recovery team includes nurses, physical therapists and an orthopedic nurse navigator.
Patients who choose to participate in the Rapid Recovery program can expect to:
Get better faster
Have less pain
Be up and walking just hours after surgery
Go home sooner
Have a coach ready to help them before and after surgery
Much of the program's success can be attributed to the personal coach, who motivates the patient to reach their goals quickly, safely, and with less stress.

The coach:
Attends Joint School education class with the patient
Attends appointments with the patient before surgery.
Helps prepare the home for the patient following surgery
Sports Medicine
Sports medicine is a sub-specialty of orthopedics that deals with the prevention, diagnosis, treatment and rehabilitation of injuries suffered during athletic activity. The goal of treatment is to heal and rehabilitate injuries so patients can quickly return to their athletic activities. Sports participation causes wear-and-tear on the body, and can lead to orthopedic injuries. Athletes are susceptible to injuries — stress fractures, chronic pain and tearing or stretching of internal structures. Treatment can involve surgery, orthotics, physical therapy and rest. Sports medicine physician Andy Gilliland, M.D., and physician assistant Jeremy Kaltenbach specialize in this area.
Concussion Management
Concussion is one of the most serious and prevalent medical problems in high school athletics today. As part of its ImPACT Program, King's Daughters offers free baseline testing to high school and college athletes, funded in part in by the Glow Run 5K, which is 9 p.m. Friday, July 28 in downtown Ashland.
Testing provides information regarding the severity of injury and a standard for evaluating recovery.
Testing is offered for high-impact athletes at universities and high schools including Paul G. Blazer, Russell, Boyd County, Fairview, Elliott County, East Carter, West Carter, Ironton, South Point, Rock Hill, Dawson Bryant and Kentucky Christian University.
Evidence suggests after two or three concussions, recoveries are more problematic and effects tend to last longer.
"We have adopted a rule: Three concussions in a calendar year means the athlete should consider sports retirement," Dr. Gilliland said. "Our ability to be aware on the sidelines is so important and could prevent an athlete from having long-term effects from a high school head injury."
KDMS Orthopedics & Sports Medicine
613 23rd St., Suite G30, Ashland
1279 Old Abbott Mtn Road, Prestonsburg
(606) 327-0036
KDMS Portsmouth Orthopedics & Sports Medicine
1729 Kinneys Lane, Suite 102, Portsmouth, Ohio
14395 State Route 93, Jackson, Ohio
8750 Ohio River Road, Wheelersburg, Ohio
617 23rd St., Suite 3, Ashland
613 23rd St., Suite 310, Ashland