Exploring the role of diet in colorectal cancer
March is both Colorectal Cancer Awareness Month and Nutrition Month. There's no better time to learn more about the key role nutrition plays in preventing colorectal cancer.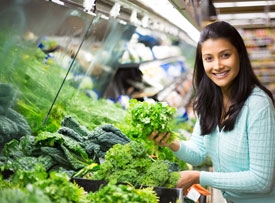 The American Cancer Society estimates there will be 135,000 new cases of colorectal cancer diagnosed in the U.S. in 2017. Nearly half of these cancers could be prevented through diet, exercise and physical activity, according to the the American Institute of Cancer Research.
"There are a number of foods with powerful nutrients you'll want in your cancer-fighting arsenal," said King's Daughters registered dietitian Amy McFann, RDN, LD, RD. "And, there are other foods you'll want to avoid that can actually increase your risk of developing colorectal and other types of cancer."
Three nutrients in particular — calcium, vitamin D and magnesium — have recently captured the attention of colon cancer prevention researchers. "Foods rich in these nutrients are recommended and include dark green, leafy vegetables, bananas, many nuts and seeds, fortified bran cereals, oatmeal, soy milk, milk, milk chocolate, beans, baked potatoes with skin and meats such as halibut and tuna," said McFann.
In general, a diet rich in colorful fruits and vegetables and high in fiber is favored for prevention of many cancers, heart disease and other health problems.
"These foods are powerhouses of cancer-fighting antioxidants and nutrients and, because of their high fiber content, can help those who consume them feel fuller, eat less and maintain a healthier weight," McFann said. "Obesity, especially extra weight carried around the middle or waist has been linked to increased colorectal cancer risk."
Colon cancer researchers also have begun taking a closer look at foods that contain probiotics, or beneficial bacteria, such as yogurt, kefir and acidophilus milk. Probiotics encourage a healthy bacterial balance in the gut, which plays an integral role in the body's immune system and its ability to fight off cancer and a variety of other illnesses. Probiotics also can be found in supplemental forms — including pills and powder.
Foods to avoid
There also are foods research indicates may increase a person's risk of developing colorectal cancer. "The big ones to avoid or greatly limit are red meats and processed meats such as hot dogs, sausage and lunch meats," McFann said.
"Consuming too much alcohol may also increase colorectal cancer risk," she said. "It is recommended both men and women consume no more than one drink per day which is defined at 12 ounces of beer, 5 ounces of wine or 1.5 ounces of distilled spirits."
In addition to good nutrition, physical activity helps reduce cancer risk, too, by enabling individuals to maintain a healthy weight, improving key hormone levels and strengthening the immune system, says the ACS.
And for individuals at average risk for developing colorectal cancer, screening beginning at age 50 is extremely important. According to the ACS, colorectal cancer screening not only has the potential for finding cancer early, it can actually prevent cancer from forming in the first place when polyps are found and removed during the procedure.
For more information about colorectal cancer screening and prevention, please call King's Daughters CARE24/7 service at (606) 408-8999 or 1-844-324-2200.