King's Daughters earns national recognition for stroke treatment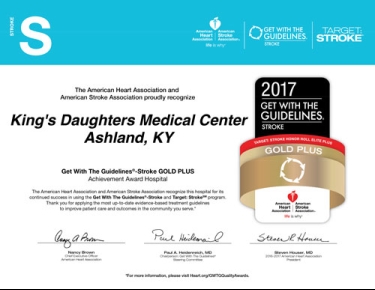 King's Daughters Medical Center has received the American Heart Association/American Stroke Association's Get With The Guidelines-Stroke Gold Plus Achievement Award with Target: Stroke Honor Roll Elite Plus. The award recognizes KDMC's commitment to providing the most appropriate stroke treatment according to nationally recognized, research-driven guidelines based on the latest scientific evidence.
Hospitals must achieve 85 percent or higher adherence to all Get With The Guidelines-Stroke achievement indicators for two or more consecutive 12-month periods and achieve 75 percent or higher compliance with five of eight Get With The Guidelines-Stroke Quality measures to receive the Gold Plus Quality Achievement Award.
To qualify for the Target: Stroke Honor Roll Elite Plus, hospitals must meet quality measures developed to reduce the time between the patient's arrival at the hospital and treatment with the clot-buster tissue plasminogen activator, or tPA, the only drug approved by the U.S. Food and Drug Administration to treat ischemic stroke.
If given intravenously in the first three hours after the start of stroke symptoms, tPA has been shown to significantly reduce the effects of stroke and lessen the chance of permanent disability. King's Daughters earned the award by meeting specific quality achievement measures for the diagnosis and treatment of stroke patients at a set level for a designated period.
These quality measures are designed to help hospital teams follow the most up-to-date, evidence-based guidelines with the goal of speeding recovery and reducing death and disability for stroke patients.
"A stroke patient loses 1.9 million neurons each minute stroke treatment is delayed," noted Polly Hunt, stroke program coordinator at King's Daughters. "This recognition demonstrates our commitment to delivering advanced stroke care to patients quickly and safely," she said.
Since the inception of GWTG-Stroke in 2003, 1,656 hospitals have entered more than 2 million patient records into the GWTG-Stroke database. This has helped improve stroke care nationwide, resulting in measurable improvements in patient outcomes.
A recent study on Target: Stroke published in The Journal of the American Medical Association indicated the positive impact of the initiative:
Participating hospitals dropped average door-to-needle times from 74 minutes to 59 minutes — a 15-minute improvement.
Overall, the percentage of patients treated within 60 minutes increased from less than 30 percent to more than 50 percent.
Patients treated within 60 minutes experience improved outcomes, including lower in-hospital mortality and reduced long-term disability.
King's Daughters is also certified as a Primary Stroke Center by The Joint Commission.