Volunteer opportunities available at River Cities Harvest
Category: Blog
Posted On:
Written By:

King's Daughters Health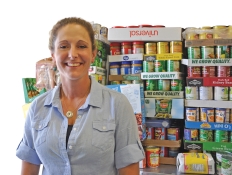 So many Kentuckians don't know where their next meal is coming from. Each year, more than 600,000 depend on food banks to feed their families. While nearly 16 percent of Kentuckians depend on outside agencies for help, the numbers are improving, according to a new report by Feeding America.
The number of Kentuckians who are "food insecure" — lacking reliable access to a sufficient quantity of affordable, nutritious food — dropped from 743,310 to 699,590 last year. The number of food insecure children dropped by nearly 20,000 from 222,380 last year to 202,050 this year.
According to the report, food insecurity exists in every county in Kentucky. The state's overall food insecurity rate of 15.8 percent decreased slightly from the previous year's rate of 16.9 percent. The national average food insecurity rate across all counties is 14 percent.
In the FIVCO district, Elliott County has the highest food insecurity rate at 19.2 percent — 400 children are estimated to be insecure. Lawrence has the second highest rate at 16.3 percent with an estimated 820 food insecure children. Boyd County follows in the third with a rate at 15.8 percent, with an estimated 2,340 insecure children — the highest among the counties.
To help combat this, local food bank River Cities Harvest relies on the generosity and support of individuals, foundations and corporations to provide donations of money and food to meet the needs. RCH, a United Way agency, provides food to 46 agencies in Boyd, Greenup and Lawrence counties in Kentucky and Lawrence County in Ohio.
Since 2014, King's Daughters and Our Lady of Bellefonte Hospital employees have donated more than 70,000 pounds of nonperishable food annually through Food Feud, a friendly competition between hospitals.
Since 1991, River Cities Harvest and its volunteers have collected perishable food from local restaurants, grocery stores and bakeries — food that would otherwise go to waste. Non-perishable food is gleaned through drives.
Without the donations received through River Cities Harvest, many of the hungry go without, are forced to buy low-nutrient foods or add fillers and extenders to stretch their food. The result is often an unhealthy diet high in sodium and fat and low in vitamins, minerals and fiber. This can lead to serious long-term health implications, including obesity, heart disease and diabetes.
River Cities Harvest Executive Director Brittnany Hoback said tackling hunger by providing a reliable source of healthy food may help combat or prevent some of these health concerns.
River Cities Harvest has successful partnerships with Walmart, Kroger and Panera Bread that provide fresh produce, meat and bakery items on a regular basis. Cafeterias at King's Daughters and Our Lady of Bellefonte Hospital supply food each week. In addition to receiving regular donations from those in the food industry, RCH partners with the Boyd County Extension Office and Federal Correctional Institution's Master Gardner program, where inmates grow and donate more than 60,000 pounds of fresh produce each year.
"Solving the hunger program in Kentucky will require strengthened partnerships within both public and private sectors," Hoback said. She is available to conduct tours of River Cities Harvest for individuals or groups who want to learn more about The Neighborhood.
"There is always a need for volunteers at the warehouse," said Mona Thompson, King's Daughters team member who serves on the Board of Directors at River Cities Harvest. Opportunities are available for individuals, businesses, school groups, church groups and civic groups.
Other ways to be involved:
"Like" River Cities Harvest on Facebook to get updates in your newsfeed
If you have a Kroger card, register it for Community Rewards. By selecting River Cities Harvest, the agency will receive a percentage of your spending. Go online at krogercommunityrewards.com
River Cities Harvest is an affiliate of the Facing Hunger Food Bank in Huntington and Feeding America — the nation's leading domestic hunger relief charity. It is located in The Neighborhood at 2516 Carter Ave. To learn more, call (606) 324-3663 online at rivercitiesharvest.org.