Aitken joins team at King's Daughters Orthopedics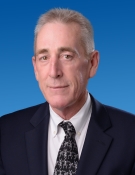 King's Daughters Health System is pleased to announce orthopedic surgeon George Aitken, M.D., is joining King's Daughters Medical Specialties Orthopedics and Sports Medicine.
For more than 20 years, Dr. Aitken has cared for patients in Ashland and surrounding communities as an independent physician. As a member of King's Daughters orthopedic team, he will relocate to Suite G30 of Medical Plaza B, 613 23rd St., Ashland effective Monday, Oct. 2. The new phone number of his practice is (606) 327-0036.
Dr. Aitken joins an outstanding group of orthopedic surgeons: Steven Carawan, M.D., Michael Chambers, M.D., Felix Cheung, M.D., Charles Giangarra, M.D., Sinan Ozgur, M.D., Gerry Trinidad M.D., sports medicine physician Andy Gilliland, M.D., surgical podiatrist Matthew Ellsworth, DPM, physician assistant Jeremy Kaltenbach and nurse practitioner Tiffany Curnutte.
Dr. Aitken will continue to care for his patients as in the past, but will now have additional support for care on nights, weekends and holidays. He will continue to accept the same insurance plans as before.
Dr. Aitken values his patients and is looking forward to caring for them at his new office:
KDMS – Orthopedics and Sports Medicine, Suite G30 of Medical Plaza B, 613 23rd St., Ashland, Ky.
Office hours: 8 a.m. – 4:30 p.m. Monday – Thursday; 8 a.m. – 3:30 p.m. Friday
Phone number: (606) 327-0036