Skilled nursing staff surprises couple with 74th anniversary party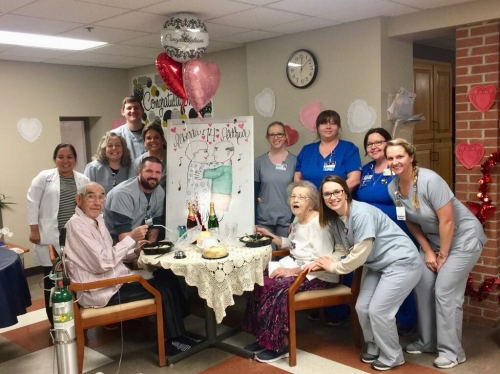 A stay in the hospital isn't exactly how high school sweethearts Arthur and Alberta Dillon planned to celebrate their 74th wedding anniversary. In late January, Arthur, 94, fell and has been recovering at King's Daughters Medical Center Rehab and Skilled Nursing Center. His wife Alberta, 93, has not left his side.
Arthur very much wanted to return to his Ironton home before their anniversary – and so did she. Despite hard work to regain his strength, Arthur's trip home would have to wait.
Instead, hospital staff planned a surprise anniversary lunch with country fried steak, mashed potatoes, green beans, carrot cake and sparkling white grape juice in plastic flutes. Balloons and decorations filled a room complete with a table for two.
"We knew they both would rather spend their special day at home," said Barb Fowler, a physical therapist. "So we wanted to do something special for them."
Overjoyed by such a thoughtful gesture, Arthur, a former pastor, said a prayer before the meal thanking King's Daughters and those who have helped him recover.
"Folks were so great to set all this up," Arthur said. "We never expected anything like this. It's such a blessing."
Instead of a hospital gown, staff provided Arthur, an Ohio State fan, a red dress shirt and Alberta a blouse and skirt.
She recalls wearing a full-length white suit and coat on the day of their wedding – Feb. 7, 1944. Two weeks later, Arthur was drafted and served in the Navy in World War II. By ship, the young sailor traveled to England, Italy, Iran, Egypt and recalls seeing the Northern Lights in Russia.
He returned home to Ironton on occasion. After 35 months, he came home permanently. It's where the couple has been ever since raising three children: Arthur Anthony, Diana Gayle and Patricia Ann.
"We have went along with the Lord who has supplied our every need," Alberta said. "We have no regrets in life."
"She is the best," Arthur said. "I guess a key to having a good, long marriage is love and taking care of each other. Once in a while, we'll have our spats, but love always overshadows that."
Fowler hopes Arthur will go home soon.
"That's what we do here," she said. "We provide short-term rehab for folks like Arthur who have been in the hospital for a fall or a bout with pneumonia. "Our goal is to get patients back home where they belong."