King's Daughters announces finalists for Bev Coleman Nursing Excellence Award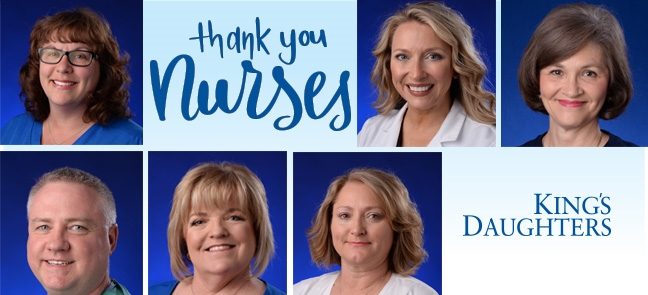 As part of our Nurses Week activities, King's Daughters is pleased to announce the second annual Bev Coleman Nursing Excellence Award finalists. The award recognizes a nurse who has exhibited the highest levels of nursing excellence and has positively influenced the nursing culture at King's Daughters over the past year.
Criteria include:
Positivity in the face of adversity
Empathy
Grace
Selflessness
Nominees are:
Jane Bailey, Neuroscience Care Center
Abby Beck, APRN Grayson Family Care Center
Terri Brislin, Maternal Child Health
Don Davidson, CVOR
Frankie Groves, Heart & Vascular Recovery Unit
Deena Stewart, Endoscopy
About Bev Coleman
Bev Coleman provided compassionate care to her patients at King's Daughters for more than 32 years. In February 2015, she was diagnosed with pancreatic cancer, passing away in April that year. Her colleagues, physicians and team members remember Coleman for her positive attitude, commitment to quality and willingness to go the extra mile to meet the needs of her patients and fellow team members. She always wore a smile, no matter how stressful or difficult the day had been. Coleman practiced her profession with grace and was noted for her ability to bring calmness and peace to any situation.
Coleman always strove to be the best possible version of herself, earning certification in post-anesthesia care and obtaining her bachelor of science degree in nursing over her long career. She was essential to the planning and opening of the pre- and post-op surgical areas at King's Daughters Medical Center Ohio.
The 2018 winner will be announced Friday, May 11.