Registered Nurse Frankie Groves receives 2018 Bev Coleman Nursing Excellence Award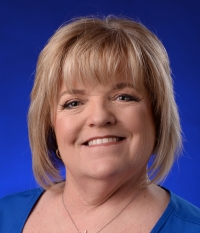 King's Daughters congratulates nurse Frankie Groves, the 2018 recipient of the Bev Coleman Nursing Excellence Award. Frankie is a registered nurse on Heart and Vascular Recovery Unit.
Frankie was nominated by several of her nursing peers who all agree she embodies the characteristics of the award:
Selflessness
Positivity
Empathy
Grace
"She has touched hundreds to thousands of lives - both patients and co-workers at King's Daughters," according to one team member who nominated Frankie. "And like Bev has been described, she is always seen with a smile, a hand to help and the best attitude."
Another nomination includes: "Frankie is the vision of a nurse. The care and compassion she shows her patients is unending. She knows that sometimes the best care we can offer patients is beyond any medical skill. She combines spiritual health into her everyday patient care. She will always be an asset to our unit and a true blessing to co-workers and all her patients."