One year later: Revisiting breast cancer survivors
In October 2018, we profiled three women and their experiences with breast cancer. These brave ladies shared their stories and photos for the greater good, and to encourage women everywhere to be vigilant, take an active role in their healthcare, and get screened as recommended by medical professionals.
For 2019, we wanted to catch up with them and continue their stories.
"What a difference a year makes."
"I finished chemotherapy with Dr. Chad Tarabolous in August 2018," Jolinda Howard said. "Since then, I've been focused on eating well. Dr. Tarabolous says a recurrence is less likely if you eat healthy and are active." Howard had a double mastectomy in January 2018.
"I now eat a lot of vegetables and lean meats. What a difference a year makes. My energy is great, and I had reconstructive surgery, as well.
"I have such a good support system. Nothing felt like it was overwhelming. All of my providers have followed me and helped me after my treatment. (Breast surgeon) Dr. Katherine Hughes has been very supportive. I visit her twice a year, and she makes me feel great." She also visits Dr. Tarabolous, her oncologist, every three months.
"Lots of younger women develop breast cancer in our area. I really like talking to people and sharing my story to encourage everyone to have regular mammograms." Howard recommends the breast cancer support group at King's Daughters. Only one thing could keep her from it, and it's the best possible reason in the world... her son's baseball practice.
"Suck it up, buttercup. Let's go."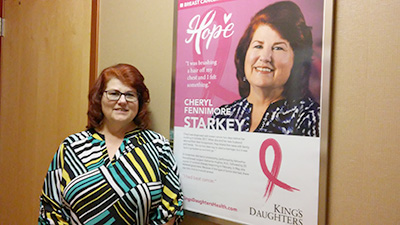 That was the attitude of Cheryl Fennimore Starkey when she heard her breast cancer diagnosis in October 2017. The Boyd County resident, along with husband John, received the diagnosis two days before their wedding. It would be a tall order to find someone more determined, optimistic or focused in their cancer treatment than Starkey.
She had surgery with breast surgeon M. Katherine Hughes, M.D.; radiation therapy with radiation oncologist Jeff Lopez, M.D., and chemotherapy with oncologist Jaskirat Randhawa, M.D.
Today she is vigilant, cancer-free and living life to its fullest. Starkey's optimism is so strong, it even reaches across the Atlantic. "I have friends in England who are a couple. One of them had an early cancer diagnosis. I show them the video (Cheryl was featured in a King's Daughters video in October 2018) to show that you can be cured. My friend was very fortunate. He had surgery but didn't have to do chemo or radiation.
"I love sharing my story and showing people what's possible."
Appreciating the little things more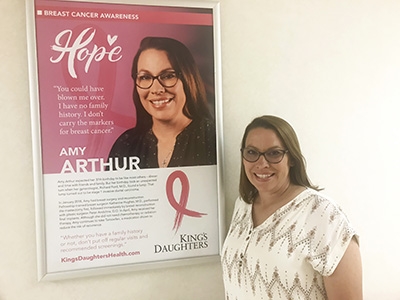 Amy Arthur says after her breast cancer treatment, she really noticed "the little things. Things I would not have thought about before. After a diagnosis like that, you learn to appreciate things more, and living in the moment more often."
Now in her late 30s, Amy says she remains vigilant against the return of breast cancer. "I still go to the oncologist every three months, and I see (breast surgeon) Dr. Hughes every six months. Plus, I'm taking tamoxifen." This drug blocks estrogen receptors on breast cancer cells, stopping the communication between cancerous cells and estrogen. It also has the added benefit of being a partial replacement for estrogen when it comes to helping other body tissues, such as the uterus and bones.
Amy says she is back to work full-time at Greysbranch Elementary in Greenup, Kentucky. In Summer 2019, her family bought a camper and took a vacation to the Smoky Mountains. "I love to be outside," she said.
Amy also shared their story and video from 2018 has helped others. "Someone reached out to me after seeing the video. We talked, and now go the support group together."
Caption(s): During Summer 2019 visits to King's Daughters in Ashland, Jolinda (top), Cheryl (middle) and Amy (bottom) all had their photos taken beside their promotional posters from 2018.