Event Details
ACLS Renewal Course - #38830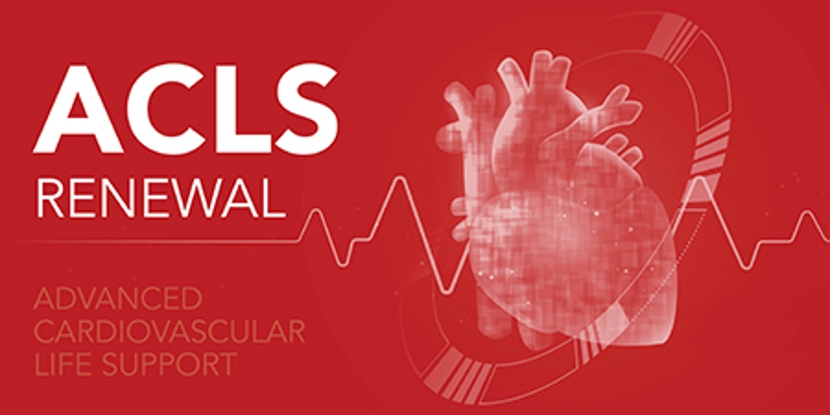 About This Event
Event Type:CPR Training
Max Capacity:16
Details:
ACLS PROVIDER
The American Heart Association's Advanced Cardiovascular Life Support Renewal course is totally redesigned for healthcare providers who either direct or participate in the resuscitation of a patient, whether in or out of hospital. Through the ACLS course, providers will enhance their skills in the treatment of the adult victim of a cardiac arrest or other cardiopulmonary emergencies. ACLS emphasizes the importance of basic life support CPR to patient survival; the integration of effective basic life support with advanced cardiovascular life support interventions; and the importance of effective team interaction and communication during resuscitation.
ACLS is based on simulated clinical scenarios that encourage active, hands-on participation through learning stations where students will practice essential skills individually, as part of a team, and as team leader. Realistic simulations reinforce the following key concepts: proficiency in basic life support care; recognizing and initiating early management of peri-arrest conditions; managing cardiac arrest; identifying and treating ischemic chest pain and acute coronary syndromes; recognizing other life-threatening clinical situations (such as stroke) and providing initial care; ACLS algorithms; and effective resuscitation team dynamics.
ACLS Precourse Requirements
You must have a current ACLS Provider Manual before class.
Print your scores for the precourse assessment tests and bring them with you to class. (Must bring pre-test to take class)
Review and understand the information in the BLS for Healthcare Providers manual. The resuscitation scenarios require that your BLS skills and knowledge are current. You will be tested on adult 1-rescuer CPR and AED skills at the beginning of the ACLS Provider Course. You will not be taught how to do CPR or how to use an AED. You must know this in advance.
Review, understand, and complete the ECG and Pharmacology precourse assessment tests on the ACLS student CD. You will not be taught how to read or interpret ECGs in the course, nor will you be taught details about ACLS pharmacology.
Review and understand the information in your ACLS Provider Manual. Pay particular attention to the 10 core cases in Part 4.
Complete all items on the precourse checklist that came with your ACLS Provider Manual.
Please check out a book 72 hours prior to class.
KDMC team members can check out books at  King's Daughters CPR TC 2432 Carter Ave. Ashland, Ky. 41101. Payroll deduction forms are available for team members to sign.
Community students can check out a book at King's Daughters 2432 Carter Ave., Ashland, Ky. 41101. Classes will need to be paid in full the day you pick your book up and is non-refundable. Books are to be returned the day of the class.
Please cancel your class 48 hours prior to the date of your class by emailing kim.howard@kdmc.kdhs.us
KDMC Policy E (37) Come to the course on time. The AHA courses adhere to very strict timelines for instructions and begin within 10 minutes of the class beginning key concepts and hands on learning. Therefore, team members/students that arrive more than 10 minutes late for the course will not be allowed to attend.
Registration
Price: $150.00
Registration Instructions: Registration 72 hours in advance. Cancellations 48 hours in advance.