Event Details
Pediatric Advanced Life Support Renewal #38788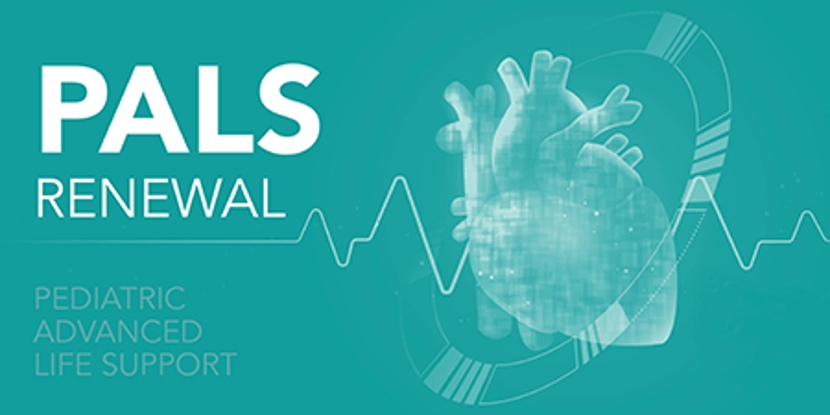 About This Event
Event Type:CPR Training
Max Capacity:8
Details:
The completely redesigned American Heart Association Pediatric Advanced Life Support Recertification course is based on new science evidence from the 2015 AHA Guidelines for CPR and ECC and a new teaching methodology. The goal of the PALS course is to aid the pediatric healthcare provider in developing the knowledge and skills necessary to efficiently and effectively manage critically ill infants and children, resulting in improved outcomes. Skills taught include recognition and treatment of infants and children at risk for cardiopulmonary arrest; they systematic approach to pediatric assessment; effective respiratory management; defibrillation and synchronized cardioversion; intraosseous access and fluid bolus administration; and effective resuscitation team dynamics
Pre-course Requirements
-- You must have a current PALS Provider Manual for class.
-- Pre-test required for class.
-- CPR competency: Be prepared to pass the child 1-rescuer CPR/AED and infant 1- and 2-rescuer CPR skills test. You will not be taught how to do CPR or how to use an AED during the course. You must know this in advance. The resuscitation scenarios require that your BLS skills and knowledge are current. Review and understand all BLS 2020 guidelines, especially as they relate to the pediatric patient. You may find this information in the BLS for Healthcare Providers manual or in other AHA guidelines publications
-- PALS algorithms and flowcharts: Be familiar with the PALS algorithms and flowcharts so that you can apply them to clinical scenarios. Note that the PALS course does not present the details of each algorithm.
-- Practice cases: Work through the practice cases located on the student CD to familiarize yourself with the "assess-categorize-decide-act" model taught in the course. As you read through each case, try to answer the questions. Check your answers to make sure you understand the concepts.
-- Supplement your knowledge: Review and understand the information in the PALS Provider Manual, the PALS Course Guide, and the student CD. Pay particular attention to the systematic approach to pediatric assessment, the "assess-categorize-decide-act" model, and the management of respiratory and circulatory abnormalities.
Course Manuals & Fees
Students should pick up their training manuals at least 72 hours in advance of class.
-- Team Members: Pick up is at the CPR Training Center, 2432 Carter Ave. Ashland. Team members will be charged for the book if they fail to return it following class. (You will sign a payroll deduction form when you pick up your book.)
-- Community Members: Pick up is at the CPR Training Center, 2432 Carter Ave., Ashland.
Registration
Price: $150.00
Registration Instructions:

Course Fees are due at the time manuals are picked up.  Fees are non-refundable.  The PALS Renewal class is a benefit provided to King's Daughter's Team members at no charge.

48 Cancellation Policy email kim.howard @kdmc.kdhs.us

Tardiness:

Per AHA guidelines a minimum of 3 students is required or we will have to cancel class.

KDMC Policy E (37) Come to the course on time.  The AHA courses adhere to very strict timelines for instruction and begin within 10 minutes of the class beginning key concepts and hands on learning.  Therefore, team members/students that arrive more than 10 minutes late for the course will not be allowed to attend.