King's Daughters physician earns subspecialty certification
Category: News
Posted On:
Written By:

Tammi Holbrook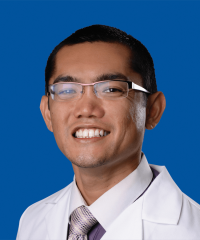 King's Daughters congratulates physician Patrick Villafuerte, M.D., for recently achieving subspecialty certification in infectious disease from the American Board of Internal Medicine. Board-certified physicians demonstrate an ability to stay current in their knowledge and skills and meet the board's standards of continuous learning and assessment throughout their professional careers.
Villafuerte joined King's Daughters team of physicians in 2014. He earned his medical degree from Far Eastern University – Nicanor Reyes Medical Foundation, Quezon City, Philippines, and completed residency at Overlook Hospital – Mount Sinai School of Medicine affiliate, Summit, N.J. Villafuerte completed his fellowship in infectious disease at New York Medical College, Westchester Medical Center, Valhalla, N.Y., and Metropolitan Hospital Center – East Harlem, New York City.
An infectious disease specialist has specialized knowledge and expertise in the diagnosis and treatment of infectious disease, including those caused by bacteria, viruses, fungi and parasites. They also possess specialized knowledge in the use of antibiotics and are trained in immunology (how the body fights infection), epidemiology (how infections spread) and infection control.