Detherage Family Practice opens in Medical Plaza A
Category: News
Posted On:
Written By:

Tammi Holbrook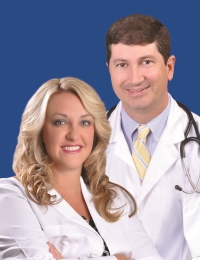 King's Daughters family physician Mark Detherage, M.D., and nurse practitioner Brooke Vass have moved their practice to 617 23rd Street, Suite 212, Medical Plaza A, on the medical center's main campus.
The new location for Detherage Family Care features additional exam rooms, more privacy, a larger waiting area and convenient access to outpatient testing. King's Daughters Family Pharmacy is also located in the same building for additional convenience. In addition, valet parking is available at the Medical Plaza entrances, and free shuttle service runs from 7 a.m. to 4:30 p.m. Monday through Friday.
New patients are welcome. To schedule an appointment, please call (606) 408-8485.