It's National Nurse Practitioner Week!
Category: News
Posted On:
Written By:

Tammi Holbrook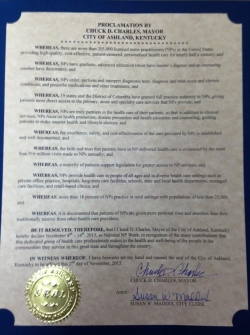 This week is National Nurse Practitioner Week and King's Daughters would like to salute these invaluable providers throughout our health system. Ashland Mayor Chuck Charles issued a proclamation recognizing this special week officially in the local community.
This year, National Nurse Practitioner Week marks the 50th anniversary of the first NP program that was started at the University of Colorado. Now, 50 years later, there are more than 205,000 NPs licensed to practice in the U.S.!
King's Daughters nurse practitioners can be found working all over our region. They are licensed, expert clinicians with advanced education (most have master's and many have doctorate degrees) and extensive clinical preparation who provide primary, acute and specialty health care services. In addition to providing a full range of services, NPs work as partners with their patients, guiding them to make educated health care decisions and healthy lifestyle choices.
Please join us in thanking and celebrating the contributions our nurse practitioners make every day in providing World-Class Care to our patients throughout our service area.