Orthopaedic oncologist, surgeon conducts research projects at Marshall University and King's Daughters.
Category: News
Posted On:
Written By:

Tammi Holbrook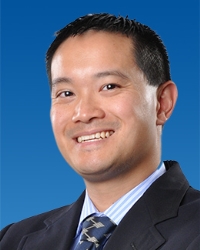 Orthopaedic oncologist and surgeon Felix H. Cheung, M.D., is conducting two orthopaedic cancer research studies at Marshall University, Joan C. Edwards School of Medicine and at King's Daughters Medical Center.
One study will evaluate a new treatment for bone structure collapse and joint failure that is a result of avascular necrosis (death of bone tissue due to loss of blood supply). The other study will evaluate the safety and performance of carbon vs. metal screws in patients with fractures of long bones that were a result of primary or secondary neoplastic lesions (areas abnormal cell growth).
Cheung is a physician with Marshall Orthopaedics and King's Daughters Orthopaedics and Sports Medicine. He is associate professor, vice chair of operations and finance, and chief of the division of orthopaedic oncology at the Marshall University Joan C. Edwards School of Medicine. He earned his medical degree from the University of Virginia before graduating his residency in orthopaedic surgery at West Virginia University. He completed his orthopaedic oncology fellowship at Harvard Medical School.
Cheung is board certified by the American Board of Orthopaedic Surgery and is a member of the Musculoskeletal Tumor Society. He specializes in surgery of tumors of the musculoskeletal system and joint replacement surgery, including the Makoplasty® robotically assisted partial knee replacement.