Register for a free holiday cooking event Dec. 3
Category: News
Posted On:
Written By:

Jennifer Fields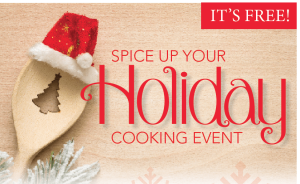 Begin your holiday cooking on Dec. 3! Join us for a
free
holiday cooking event with professional chef Robert Granberg of Gordon Food Service, who will teach those who attend to layer on the flavor.
Choose a time that fits your schedule: noon or 5 p.m. Thursday, Dec. 3 in King's Daughters Health Education Center, lower level of Lexington Avenue parking garage.
Menu includes:
Sweet Potato, Carrot and Ginger Soup
Herb Roasted Turkey with a Carmelized Vegetable Medley, Roasted Fennel and Parsnip
Apple Bread Pudding with Cranberries, Raisins, Pecans and Honey Yogurt Sauce
"Join us as we learn to put a healthier twist on some favorite holiday recipes," said Kim Bayes, RN, BSN, program coordinator for King's Daughters Diabetes Prevention Program and Choose to Lose program. "Eating healthy doesn't have to be difficult or boring. Chef Rob will show how it's done and we'll get to sample these wonderful recipes."
There is no cost for this program but registration is required by clicking here. For more information, call Bayes at Center for Healthy Living at (606) 408-1560.
Follow King's Daughters on Facebook as we provide tips and recipes for a fun and healthy holiday.
Chef Granberg joined Gordon Food Service in 1998 and has served as a salesperson, a Center of the Plate Marketing Specialist and is currently the Consulting Chef for the Central States Division. Rob is a certified Executive Chef, an Approved Cooking Practical Evaluator with the American Culinary Federation, and is the Vice President of the ACF Kentucky Chapter.