Registered Nursing Job Fair this week
Category: News
Posted On:
Written By:

Jennifer Fields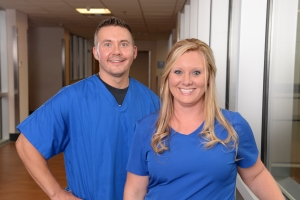 Whether you are a new graduate… or an experienced RN … King's Daughters has a variety of opportunities available in direct patient care and related areas. Find out all we have to offer at a
Registered Nursing Job Fair 4 – 9 p.m. Thursday, Nov. 19
in the lobby of the Heart & Vascular Center.
Nursing directors and managers will be on hand, talking about nursing at King's Daughters, opportunities and our commitment to high-quality care, our patients and the community.
As a regional referral center, King's Daughters offers opportunities in critical care, emergency, heart and vascular, maternity, med/surg, neuromedicine, oncology, orthopaedics, pediatrics, rehab and surgical nursing.
We recognize, encourage and reward professional accomplishment. Many of our nurses have used the knowledge and experience gained at King's Daughters to earn advanced degrees – MSN, DNP and nurse practitioner certification.
An affiliation with Cleveland Clinic for heart and vascular care provides nurses with access to education and other resources unobtainable anywhere else ... except Cleveland itself!
New nurses find King's Daughters to be a great place to start their careers! With an 8 to 16-week residency, new nurses build confidence while learning to apply the knowledge they've gained in the classroom to daily practice.
Our fellowships in Critical Care, Emergency and Cardiac Cath Lab nursing, help those who are interested in these complex and dynamic roles obtain the core competencies and on-unit clinical time necessary for success.
"From our three-star rating from the Society for Thoracic Surgery for coronary bypass surgery and aortic valve replacement to our Joint Commission certification as Primary Stroke Center; from our designation as a Center of Excellence for Bariatric Surgery to our ongoing recognition by HealthGrades, CareChex and The LeapFrog Group, King's Daughters strives to be the very best healthcare provider, the best employer, and the best community partner," said President and CEO Kristie Whitlatch. "Whether you are interested in bedside nursing, highly specialized critical care nursing, serving people in the primary care setting, or the fast-paced emergency environment, I invite you to learn more about the opportunities that await you at King's Daughters. "
If you can't make it to the job fair, but want to learn more, call nursing recruiter Amy Jackson at (606) 408-0051. A list of open positions also is available online at kdmc.com/careers.