King's Daughters welcomes interventional cardiologist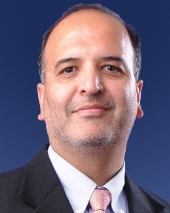 King's Daughters welcomes interventional cardiologist Faisal Hayat, M.D., to King's Daughters Medical Specialties — Cardiology, joining cardiologists David Bush, M.D.; Zane Darnell, M.D.; Chris Epling, D.O.; Roger Klein, M.D.; Jennifer Listerman, M.D.; Terence Ross, M.D.; Arash Seratnahaei, M.D.; John Van Deren, M.D.; and Sri Velury, M.D.

Hayat earned his medical degree from Khyber Medical College, Peshawar, Khyber-Pakhtunkhwa, Pakistan. He completed his internal medicine residency at Charleston Area Medical Center, Charleston, W.Va., and completed the following fellowships:
Congestive heart failure and transplant cardiology, Aurora St. Luke's Medical Center, Milwaukee, Wis.
Geriatric medicine at Mountain Area Health Center, University of North Carolina, Asheville, N.C.
Cardiology and interventional cardiology, Joan C. Edwards Marshall University School of Medicine, Huntington, W.Va.
Hayat is board certified by the American Board of Internal Medicine, subspecialty certification in cardiovascular disease.

An interventional cardiologist is a cardiologist with one to two years of additional education and training in diagnosing and treating cardiovascular disease as well as congenital (present at birth) and structural heart conditions through catheter-based procedures, such as angioplasty and stenting.