Newly renovated mobile mammography unit serves Kentucky and Ohio
Category: News
Posted On:
Written By:

Jennifer Fields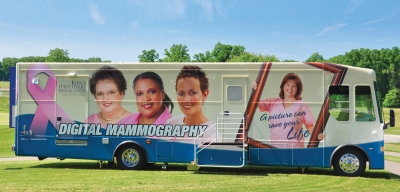 As the only mobile mammography unit in eastern Kentucky, King's Daughters newly renovated unit travels throughout eight Kentucky counties and four counties in southern Ohio, providing access to digital mammography at our Family Care Centers, physician offices, workplaces, schools and more locations. Featuring two new dressing rooms and an extended waiting area, women receive quick and convenient testing without traveling.
On the road in your community, mobile mammography serves patients five to six days a week in Boyd, Greenup, Carter, Elliott, Lewis, Johnson, Martin and Floyd counties in Kentucky; Lawrence, Scioto, Pike and Jackson counties in Ohio.
"Some women don't have access to transportation to visit King's Daughters," said Doretha Pridemore, breast care center clinical supervisor. "Mobile mammography provides care where it's needed — and women appreciate it."
Mobile mammography began serving patients in 1997. Through the generosity of sponsors including King's Daughters Auxiliary and Rocky Adkins Golf Tournament, the most current unit was purchased in 2009.
"We are proud to serve patients at King's Daughters and in our communities," said Shawn Boggs, executive director of diagnostic services at King's Daughters.
Through a partnership with Susan G. Komen organization, we are able to provide free or reduced cost mammograms, advanced diagnostic and treatment services to eligible women residing in Ohio and Kentucky. For more information about this program, please call (606) 408-2650.
All testing is performed by specially trained and certified mammography technologists. If you're a woman over the age of 40, schedule your annual mammogram today by calling (606) 408-2742 or toll-free 1-877-304-1935. No physician order is needed.