Neurodiagnostics - It's Electrifying!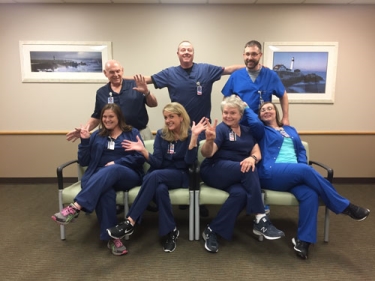 Have you ever had a EMG, EEG or nerve conduction study?
If so, one of the health professionals involved in your testing was probably a neurodiagnostic technologist.
Neurodiagnostic techs provide a valuable contribution to quality patient care through recording and study of the electrical activity of the brain and nervous system. They have many areas of expertise and act as eyes and ears for specially trained physicians. The field of Neurodiagnostic Technology is expanding every year and so are the professionals who practice it.
At King's Daughters, our neurodiagnostic techs provide both inpatient and outpatient services in Ashland, and outpatient services in Prestonsburg and Portsmouth, Ohio.
Neurodiagnostics is the study of the brain and nervous system. Procedures performed by technologists include electroencephalography [EEG], evoked potentials EP, intraoperative neuromonitoring, long-term monitoring, continuous EEG in the Intensive Care Unit, nerve conduction studies, and polysomnography or sleep studies. Technologists play an important role in performing these tests to aid in diagnosing such illnesses and problems as epilepsy, sleep apnea, migraine headaches, stroke, and carpal tunnel syndrome.
Neurodiagnostic Week, April 16-22, recognizes the contributions of neurodiagnostic professionals throughout the country.
PHOTO: King's Daughters neurodiagnostic techs are, from left to right: Melanie Mullins, Angela Ryan, Freda Wright, and Kristin Fleming. Back row: Lee Nance, Ed Ritchie, and Brad Davis.