Linda Wilson: Getting back to life; total knee replacement success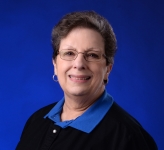 For the last two years, increasing pain in her left knee made routine activities difficult for Linda Wilson. "I have always been active, but pain in my knee slowed me down," Wilson said. "My leg would swell, and I had difficulty walking." When she and her husband Dan went on vacation to Virginia Beach and she could not keep up, she knew she could not put off total left knee replacement surgery any longer.
"I could not ride a bicycle, walk on the sidewalk or in the sand," she said. "I made up my mind that I was not going back to a beach until I had surgery so I could have fun with my husband once again."
Wilson chose King's Daughters orthopaedic surgeon Felix Cheung, M.D., for surgery. Although she has worked as a patient office coordinator in a cardiology office for several years, she had avoided surgery because of concerns about recovery.
A King's Daughters orthopaedic nurse navigator, along with joint school through the Rapid Recovery program, helped address her concerns. "They literally walk you through your procedure and your therapy, so you will fully know what to expect. You are encouraged to bring a loved one with you, and they did a wonderful job making me feel comfortable and prepared."
After surgery, Wilson stayed in the surgical orthopaedic unit for two days and began physical therapy. "The first time my feet hit the floor after surgery, I knew it would be hard work, but I made up my mind I wanted to walk without a limp. Walking that 200 feet, I knew I would have my life back. I went into this determined. I did not want to be in a wheelchair."
"I worked with physical therapists in the hospital and with home health for two weeks. I did what Dr. Cheung said to do and I experienced no pain."
About three months after surgery, Linda made the decision to walk with co-workers in the annual Ashland Christmas parade. "I told myself that if I couldn't do the whole parade route, I would rest. I took my time and handed out candy to children. I had some swelling, but the next morning I felt great."
"I was positively affected by great orthopaedic care. Their teamwork and professionalism eased my mind. I feel like I have been given two years of my life back. I have no pain so there is nothing holding me back."