Pulmonologist joins KDMC staff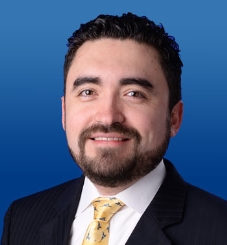 We're pleased to welcome lung specialist Julian Lopez, M.D., to our medical staff!
Dr. Lopez earned his medical degree from Pontificia Universidad Javeriana, Bogota, Colombia, and completed internal medicine residency at Norwalk Hospital Yale University in Norwalk, Conn. He recently completed a three-year fellowship in pulmonary and critical care medicine at John H. Stroger Hospital of Cook County, Chicago.
Dr. Lopez is board certified by the American Board of Internal Medicine with subspecialty certification in pulmonary disease.
He joins our team at KDMS Pulmonology & Critical Care medicine, Mohamad Abul-Khoudoud, M.D., Scott Nelson, M.D., Traci Sanchez, M.D., Greg Stark, M.D., and Bjorn Thorarinsson, M.D. The office is located in Suite G10, Medical Plaza B, 613 23rd St., Ashland. Patients are seen by referral. For more information, please call the practice at (606) 408-LUNG.