UK Cerebrovascular specialists open outreach at KDMC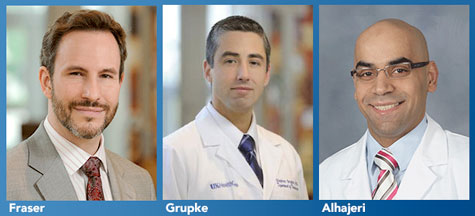 Beginning Monday, July 3, UK Healthcare Neurosciences Institute specialists in cerebrovascular surgery will have an outreach clinic at KDMC.
The outreach clinic will include cerebrovascular surgeons Justin Fraser, M.D., and Stephen Grupke, M.D., and neurointerventional radiologist Nasser Alhajeri, M.D., and will be located in KDMS - Neuromedicine offices, Suite 400, Medical Plaza A. The clinic will be offered two Mondays a month.
Referrals will be handled through the Neurosurgery Nurse Navigator and Referral Line at 606-408-2805 or 606-408-2807. At this time, the clinic will see cerebrovascular patients on an outpatient basis only.