Free diabetic foot screening Tuesday in Ashland
King's Daughters podiatrist Matthew Ellsworth, DPM, will be conducting free diabetic foot exams from 3 to 6 p.m. Tuesday, March 28 as part of the American Diabetes Associations ALERT! Day.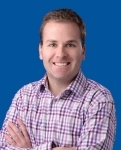 The screening consists of a review of the participant's medical history and an exam of the feet. Recommendations for self-care, education and follow-up services, if needed, will be provided.
The screening will be performed onboard the KDMC Mobile Health Unit, which will be parked at the King's Daughters parking lot at the corner of Central Avenue and 24th Street in Ashland.
Appointments are required and may be made by calling 1-888-377-KDMC.
Complications of diabetes can include diabetic neuropathy (lack of sensation in the feet and legs); peripheral artery disease (reduced blood flow to the extremities); and difficulty in wound healing. Diabetes is a major cause of toe, foot and leg amputation in the U.S.
Physicians recommend those with diabetes take special care to protect their feet from injury; visually inspect their feet daily for changes; and seek regular care from a qualified professional to detect and avoid serious, sometimes life-threatening complications.
Dr. Ellsworth earned his medical degree from the Ohio College of Podiatric Medicine in Independence, Ohio, and completed residency training in podiatric medicine and surgery at the Department of Veterans Affairs Medical Center in Dayton, Ohio. He is board certified by the American Board of Podiatric Medicine and is certified as a wound care physician by the American Board of Wound Management.
Dr. Ellsworth sees patients at King's Daughters Orthopaedics and Sports Medicine, Suite G20, 613 23rd St., Ashland. The office can be reached by dialing (606) 327-0036. New patients are welcome.