King's Daughters supports Young Men's Conference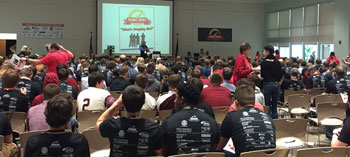 King's Daughters was one of several local sponsors of the inaugural Young Men's Conference held March 7 at Ashland Community and Technical College. Sophomores from across the region attended the event to hear local speakers and inspirational stories. Topics ranged from making the right decision to leadership, business startups, emerging technologies, social media and Marine Corps leadership.
King's Daughters director of Security and Environmental Services Scott Hill, Security and Emergency Department director Jason Blevins spoke to the group about the importance of making great decisions. Hill also served on the Young Men's Conference planning committee.