"The world's smallest pacemaker" now at King's Daughters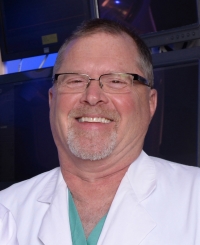 The world's smallest pacemaker is now available at King's Daughters Medical Center. Electrophysiologist Terence Ross, M.D., recently performed the hospital's first implant of Micra, a device about 93 percent smaller than traditional pacemakers.
"This is a significant advancement for our patients," Dr. Ross said. "Because Micra is so small, it can actually be implanted during a cardiac catheterization procedure. No incisions are necessary and patients never have to worry about lead changes or activity restrictions related to the device," he said.
Pacemakers are designed to sense and augment the heart's natural rhythms. When there's a disturbance – such as a slow heart rate – the pacemaker will send an electrical impulse to help restore normal rhythm.
"The Micra pacemaker is completely self-contained," Dr. Ross noted. "Because of the way it's implanted, there are no scars, bumps or even outward signs that it's onboard. There are no activity restrictions and patients experience none of the obstructions to shoulder movement that can occur with traditional pacemakers," he added.
Micra is about the size of a large vitamin capsule. Its battery life is estimated at 12 years, which is comparable to that of traditional pacemakers. "Micra isn't for everyone," Dr. Ross said. "But for those who need only a single chamber pacemaker, it is a great leap forward."
The Micra transcatheter pacing system was designed and is manufactured by Medtronic.
Additional benefits:
It is safe for an MRI scan. Micra was designed, tested and approved to be used safely with MRI scanners.
Patients can pass through airport security normally, with only a few modifications.
Patients can use mobile phones safely (but are advised to keep the phone in a purse or pants pocket rather than breast pocket).
Is safe around normally functioning household appliances, such as microwave ovens.
Micra may be turned off if no longer needed.
Patients can resume their normal daily activities, including exercise, following the implant.
For more information about treatment for heart rhythm disorders, including Micra, bradycardia, or atrial fibrillation, please call King's Daughters Cardiology at (606) 324-4745.