King's Daughters receives national award for stroke care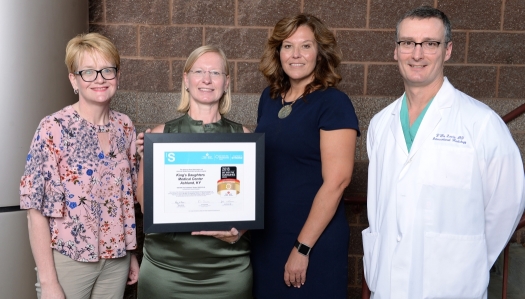 King's Daughters Medical Center has once again received recognition from the American Heart Association/American Stroke Associations for delivering high-quality care to stroke patients.
Cynthia Keely, director of system and quality improvement for the AHA, presented KDMC with the Get With The Guidelines®-Stroke Gold Plus Target Stroke Honor Roll Quality Achievement Award on Wednesday, July 25.
"This is not the first year for the Gold level award for this hospital," Keely noted. "It's been several, several years of continuous high levels of treatment and care for patients with stroke at King's Daughters."
KDMC has received the Gold award from the American Heart Association continuously since 2011 and is the only hospital in eastern Kentucky and southern Ohio to earn the GWTG Gold Plus Stroke award.
The GWTG awards recognize King's Daughters commitment to ensuring stroke patients receive the most appropriate treatment based on nationally recognized, research-driven guidelines developed using the latest scientific evidence.
To earn the Gold-level award, a hospital must achieve and maintain 85 percent compliance on eight evidence-based criteria for care over a 24-month period. The PLUS designation indicates compliance with six additional GWTG criteria, over and above the core eight, Keely noted.
The GWTG quality measures include proper use of medications and other stroke treatments based on the most up-to-date, evidence-based guidelines. The goal of GWTG is to speed patient recovery and reduce death and disability among stroke patients.
The standards also measure hospitals' performance with patient education on stroke signs/symptoms, health management, smoking cessation education, follow-up care after discharge and transition of care.
"This reflects all of the hard work and dedication of all of the team members here at King's Daughters," said Wes Lewis, M.D., medical director of the stroke program. "For our community, (this award) means that we provide a level of care that they don't have to go someplace else to receive."
King's Daughters also received the AHA's Target: Stroke Honor Roll award, which recognizes the hospital's effort to reduce the time between a patient's arrival at the hospital and treatment with tPA, a clot-busting medication and the only drug approved by the U.S. Food and Drug Administration to treat ischemic stroke.
"We are pleased to recognize King's Daughters Medical Center for their commitment to stroke care," said Eric E. Smith, M.D., national chairman of the Get With The Guidelines Steering Committee.
"Research has shown that hospitals adhering to clinical measures through the Get With The Guidelines quality improvement initiative can often see fewer readmissions and lower mortality rates."
According to the American Heart Association/American Stroke Association, stroke is the No. 5 cause of death and a leading cause of adult disability in the United States. On average, someone in the U.S. suffers a stroke every 40 seconds and nearly 795,000 people suffer a new or recurrent stroke each year.
###
PHOTO: Neurologist Tanya Warwick, M.D.; Cynthia Keely of the American Heart/American Stroke Association; Polly Hunt, RN; stroke program coordinator at King's Daughters; and Wes Lewis, M.D., medical director of King's Daughters stroke program.