King's Daughters joins UK's Markey Affiliate Network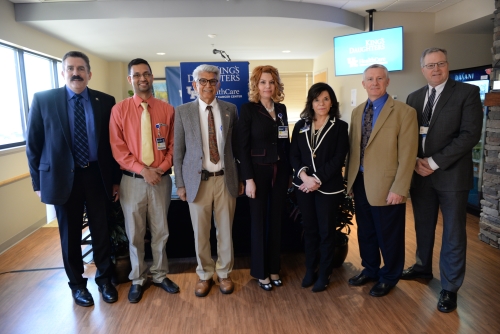 King's Daughters Medical Center has entered into a new affiliation with the University of Kentucky Markey Cancer Center, the state's only National Cancer Institute-designated cancer center.
By becoming a UK Markey Cancer Center Affiliate Network member, King's Daughters can offer patients in eastern Kentucky, southern Ohio and West Virginia access to additional specialty and subspecialty care, including clinical trials and advanced technology, while allowing them to stay closer to home for most treatments.
In 2017, 802 new cancer cases were treated at King's Daughters, with most patients coming from 12 counties in the region. In Kentucky, these include Boyd, Carter, Elliott, Floyd, Greenup, Johnson, Lawrence, Lewis, and Martin counties. In Ohio, patients primarily come from Lawrence and Scioto counties. Patients from Wayne County, W.Va., also seek treatment at King's Daughters.
The top five types of cancer treated at King's Daughters are diseases of the lung, breast, colon, prostate and skin.
In 2015, King's Daughters also joined Markey's Research Network, which allows the hospital to run many of Markey's oncology clinical trials on-site in Ashland. King's Daughters has participated oncology research with UK for more than 30 years.
Speaking at the event for King's Daughters will be President/CEO Kristie Whitlatch, and oncologist/hematologist David Goebel, M.D. For UK, Markey Affiliate Network Medical Director Tim Mullett, M.D., will share his thoughts on cancer treatment in Kentucky.
About the Cancer Center Affiliate Network
The UK Markey Cancer Center Affiliate Network was created to provide high-quality cancer care closer to home for patients across the region, and to minimize the effects of cancer through prevention and education programs, exceptional clinical care, and access to research. The affiliate network is especially important for Kentucky, where cancer rates are the highest in the nation.
"Kentucky is home to some of the worst cancer rates in the country," said Dr. Tim Mullett, medical director of the UK Markey Cancer Center Affiliate Network. "Collaborating with our affiliate hospitals across the state will enable us to make a positive impact on the dire cancer rates here in the Commonwealth."
The UK Markey Cancer Center is one of only 69 medical centers in the country to earn an NCI cancer center designation. Because of the designation, Markey patients have access to new drugs, treatment options and clinical trials offered only at NCI centers.
Moving forward, the UK Markey Cancer Center is working toward the next tier of designation – an NCI-designated Comprehensive Cancer Center. Currently, 45 of the 69 NCI-designated cancer centers in the country hold a comprehensive cancer center status. The UK Markey Cancer Center Affiliate Network will play a large role in bringing that next level of cancer funding to Kentucky.
The UK Markey Cancer Center Affiliate Network began in 2006 and comprises 20 hospitals across the state of Kentucky:
Clark Regional Medical Center, Winchester
Frankfort Regional Medical Center
Georgetown Community Hospital
Hardin Memorial Hospital, Elizabethtown
Harlan ARH Hospital
Harrison Memorial Hospital, Cynthiana
Hazard ARH Regional Medical Center
Highlands Regional Medical Center, Prestonsburg
King's Daughters Medical Center, Ashland
Lake Cumberland Regional Hospital, Somerset
Methodist Hospital, Henderson
Norton Cancer Institute, Louisville (Norton Healthcare-UK HealthCare partnership)
Our Lady of Bellefonte Hospital, Ashland
Owensboro Health Regional Hospital
Rockcastle Regional Hospital, Mt. Vernon
St. Claire Regional Medical Center, Morehead
St. Elizabeth Healthcare, Edgewood
The Medical Center at Bowling Green
TJ Samson Community Hospital, Glasgow
Tug Valley ARH Regional Medical Center, South Williamson