Team members, physicians donate $80,000 to United Way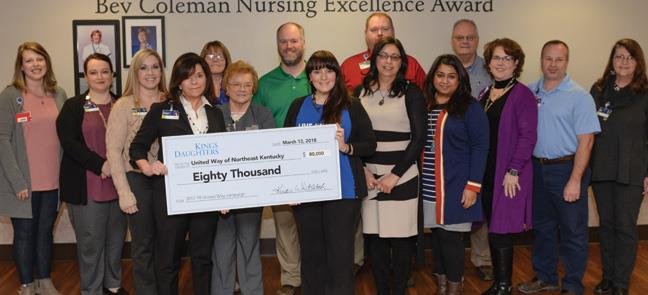 There is perhaps, no single public service initiative at King's Daughters that involves more team members or is more impactful to the community than the medical center's annual United Way campaign.
Each year, the call for pledges goes out throughout the entire organization, and several hundred team members and physicians make their contribution through checks, cash or payroll deduction. Last season's campaign generated $80,000 in donations. Kings Daughters' contribution helps the local United Way support dozens of agencies that assist people and families in our region — in Boyd, Carter, Greenup, Elliott and Lawrence counties.
Contributions support worthwhile organizations including:
Ashland Community Kitchen
Ashland Child Development Center
Safe Harbor
Shelter of Hope
Hope's Place
Two Hearts Pregnancy Center
River Cities Harvest
Big Brothers Big Sisters
"We cannot thank King's Daughters, its team members and its physicians for all they've done to make such an impact on our community," said Jerri Compton, United Way executive director. "Their prayers and their gifts really will make a difference for so many!"