Medical conference focused on needs of African countries takes place October 20 in Arlington, Va.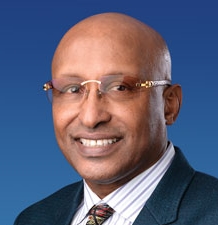 King's Daughters neurologist Enawgaw Mehari, M.D., has practiced in the U.S. for several years, but he's never forgotten his home country of Ethiopia. Since 1999, Dr. Mehari has spearheaded an organization called People to People (P2P) to, in his words, "facilitate the transfer of knowledge and technology to Africa with special emphasis in Ethiopia."
Dr. Mehari has taken King's Daughters physicians with him to Ethiopia—oncologist/hematologist Galena Salem, M.D., traveled there with Dr. Mehari in 2017— to teach medical professionals and care for patients. The organization alternates between visits to Ethiopia with medical professionals, and a U.S.-based medical conference for those with connections to Ethiopia. This year, People to People is hosting a worldwide conference in Washington, D.C.
This year marks the conference's 10th anniversary with several firsts: an in-person and online conference focusing on "the growing burden of cardiovascular diseases in Ethiopia." It's the first program presented as part of the newly formed Pan African Continuing Medical Education Network. It also will be streamed live on Facebook for the first time, although continuing medical education credit will not be available to online watchers.
P2P draws from its large membership of highly accomplished health care professionals who are committed to advancing clinical care, medical education and research in resource-limited countries. The organization launched the novel concept of a "Triangular Partnership" (TP) in 2012 when it hosted a symposium at the University of Kentucky for stakeholders from various universities in the U.S. and African nations, as well as health care professionals with Ethiopian connections. Notable participants included the then-Minister of Health for Ethiopia and senior leaders from the University of Kentucky and the National Institutes of Health. The partnership includes the countries themselves, and the African diaspora - native African professionals of all occupations who live in different parts of the world but are committed to improving life in the countries of their birth.
Pan-African Continuing Medical Education (CME) credit is available through the Mayo Clinic School of Continuous Professional Development. Four hours of CME credit is available and accredited by the Mayo Clinic School of Continuous Professional Development. Kebede Begna, M.D., of the Mayo Clinic is the course director.
The event takes place:
Saturday, Oct. 20
7:30 a.m. to 5:30 p.m.
Residence Inn Arlington, Pentagon City
550 Army Navy Drive
Arlington, VA 22202
Attendees can learn more and register at p2pbridge.org. More information also is available at: https://ce.mayo.edu/special-topics-in-health-care/content/pan-african-continuing-medical-education-network-2018#group-tabs-node-course-default1
The event is presented by People to People and the Mayo Clinic. Strategic co-hosts include:
Ambo University, Ethiopia
Assosa University, Ethiopia
Aksum University, Ethiopia
Behir Dar University, Ethiopia
Bule Hora University, Ethiopia
The Consortium of Universities for Global Health, Washington, D.C.
Debre Berhan University, Ethiopia
Debre Markos University, Ethiopia
Debre Tabor University, Ethiopia
Dire Dawa University, Ethiopia
Einstein Global Health Center, Albert Einstein College of Medicine, Bronx, N.Y.
Ethiopian Ministry of Education
Ethiopian Ministry of Health
Hawassa University, Ethiopia
Howard University, Washington, D.C.
Jimma University, Ethiopia
Madawalabu University, Ethiopia
Mekelle University, Ethiopia
Mettu University, Ethiopia
Mmbiki Memorial Foundation, Tanzania
University of Kentucky
University of Wisconsin-Madison's Global Health Institute
Wolaita Sodo University, Ethiopia
Wolkite University, Ethiopia
Wollo University, Ethiopia