NICU helps couple be prepared for birth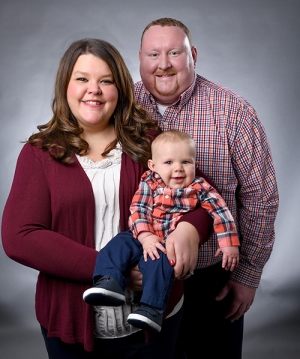 Ashlee Eichenlaub, APRN, and husband Brian had tried for five years to have a child. Ashlee, a nurse practitioner with the Digestive Health program at King's Daughters, also has Type I diabetes. However, she and Brian were eager and determined to have a child and sought out the expert care of OB/GYN Tony Dotson, D.O., and the team at Ashland Women's Health.
"We had maternal-fetal medicine check-ups as well as visits with Dr. Dotson on a weekly basis," Ashlee said. "Dr. Dotson and the staff at King's Daughters said that our baby boy, Owen, could possibly have complications after delivery because of diabetes, and he may have to stay in the Neonatal Intensive Care Unit (NICU)."
King's Daughters has a Level III Neonatal Intensive Care Unit (NICU), one of only four such units in Kentucky. Newborn babies who need intensive medical attention are often admitted into this special area of the medical center. The NICU at King's Daughters combines advanced technology and trained healthcare professionals to provide specialized care for our smallest patients.
The 13-bed NICU provides care for newborns born prematurely or with other health problems. Specially trained nurses as well as neonatologists Ramon Ymalay, M.D., and Courtney DeJesso, M.D., provide care for premature babies and newborns with special medical needs.
When it came time for Owen's birth, that's exactly what happened. Ashlee said Owen's blood sugar level and his oxygen were low, and he ended up staying in the NICU for close to five days. There, he was under the watchful care of nurses trained to care for these tiniest patients, and medical care of the two neonatologists.
In the NICU, Owen did well, meeting all milestones and growing on schedule under the watchful eyes of the team. Ashlee said he spent his first day with Dr. Ymalay, and three with Dr. DeJesso. Owen was able to leave the NICU on July 4, 2019, and go home with his parents the next day.
Brian and Ashlee say Owen is doing well. He's growing on schedule, and he eats and sleeps well, Ashlee said. "The staff in the NICU were fantastic. They took care of Owen, Brian and me. They taught Brian how to change his diaper and feed him, too."