Don't let eating healthy overwhelm you
Category: News
Posted On:
Written By:

Jennifer Fields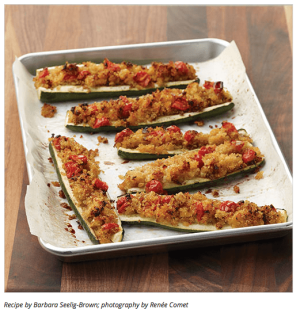 It's hard to believe the month of November has come to an end. We hope everyone had a blessed Thanksgiving holiday. As we reflect on the holiday season we are thankful for family and friends and the opportunity to share recipes and education from the American Diabetes Association's website. There is so much to learn about healthy living. Don't let it overwhelm you. Take small steps. Make one change per week. You can do it!
Join as next week as we begin our weekly Holiday Challenge: Maintain, Don't Gain.
This week Barbara Seelig-Brown, host of the TV show Stress Free Cooking shares her elegant twists on traditional recipes bringing good health to everyday meals and special occasions. Click here to learn more including recipes for dinners, sides, appetizers and tasty dishes and also a section of dishes for 150 calories or less!
Pictured is Crunchy Quinoa Stuffed Zucchini - click here to find out how to make this yummy treat!