KDMC brings Mega Body to Summer Motion
Category: News
Posted On:
Written By:

Jennifer Fields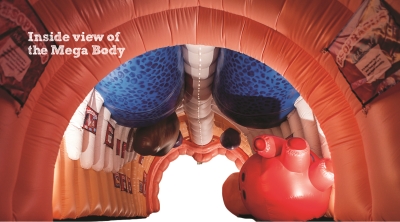 Discover how your body works from the inside out by taking a tour through the entire human body at Summer Motion!
Mega Body, a scientifically accurate 50-foot long inflatable replica of the human body will be on display at Ashland's riverfront from 11 a.m. to 5 p.m. Friday, July 3 and 9 a.m. to 5 p.m. Saturday, July 4. The exhibit is sponsored by King's Daughters Medical Center Health Foundation.
"Mega Body provides visitors with a highly interactive, educational experience featuring the human body's most critical components," said Tracy Woods, KDMC community relations coordinator.
Mega Body is appropriate for people of all ages – from schoolchildren through adults. The inflatable illustrates healthy body functioning along with preventive measures to help avoid common diseases. With an emphasis on healthy living, participants will learn that choices they make at an early age can have a huge effect on their well being. It contains information about:
Asthma
Bone health
Brain health
Dental health
Digestive tract
Heart health
Lung health
Muscles
Skin
Stroke
Representatives from King's Daughters will be on hand to provide information about hydration and heat-related illnesses.